The Last Suit at 2018 WJFF
"El último traje" tells story of a 88 year-old Jewish tailor who runs away from Buenos Aires to Poland in search of a friend who saved him from certain death at the end of World War II.
One of the largest and most respected Jewish film festivals in North America, the Washington Jewish Film Festival (WJFF), running May 2–13, celebrates the diversity of Jewish history, culture and experience through the moving image. In addition to the annual festival, the WJFF presents an ongoing, year-round film series at the Edlavitch DCJCC. Between the flagship Festival and year-round program, the WJFF annually serves over 18,000 people through 150+ screenings, nearly all of which are regional, U.S. or world premieres. Most screenings are followed by discussions with guest filmmakers and subject matter experts.
The Last Suit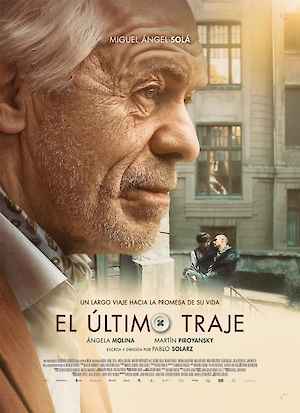 On Saturday, May 5, at 8:30 pm. at Edlavitch DCJCC, 1529 16th St NW, Washington, DC 20036.
On Sunday, May 6, at 8 pm. At AFI Silver Theatre, 8633 Colesville Rd, Silver Spring, MD 20910.
Directed by Pablo Solarz, Spain and Argentina, 2017, 86 minutes. In Spanish with English subtitles. View trailer.
Abraham Bursztein's kids have sold his Buenos Aires residence and planted him in a retirement home. But Abraham survived the Holocaust, made a successful life in a foreign land, and isn't about to fade away so quietly. Instead, he's planned a one-way trip to the other side of the world to find the man who years earlier saved him from certain death. With its klezmer-driven score and evocative cinematography, The Last Suit blends a life-affirming reverence with a weighty and worthwhile theme.