Spanish Cinema Now 2023
"Spanish Cinema Now" is back again for its 6th edition, bringing the best cinema made in Spain to DMV audiences.
AFI Silver Theatre and the Cultural Office of the Embassy of Spain in Washington, D.C. co-present Spanish Cinema Now, an annual festival of outstanding new films that reflect the breadth of styles and talents at work in Spain today. This year's festival opens with Tobacco Barns, by director Rocio Mesa, followed by a reception on June 2 at 7 pm.
Additional highlights include the last release by Carlos Saura Walls can talk; The Elderly by Raúl Cerezo and Fernando González Gómez; the feature debut by Álvaro Gago, Matria; Motherhood by Pilar Palomero, nominated to multiple 2023 Goya Awards; On the fringe, starring Penelope Cruz, by Juan Diego Botto; Suro by San Sebastián Film Festival-awarded director Mikel Gurrea; The Water by Elena López Riera; and Jonás Trueba's latest release, You have to come and see it.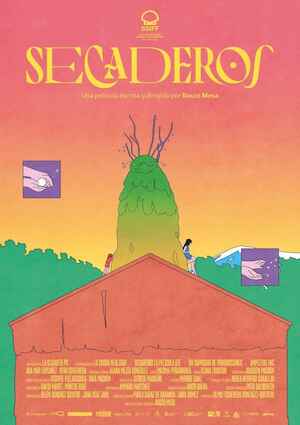 In rural Granada, among the picturesque tobacco plantations, seven-year-old Vera spends the summer visiting her grandparents, seeing wonder and magic around every corner. But angsty local teen Nieves feels trapped —by her high school boyfriend, her job working in the fields and her small-town life. On an adventurous journey of self-discovery, both girls will be connected to a magical creature that will change the way they see their own realities.
In her award-winning narrative feature debut, filmmaker Rocio Mesa found inspiration in her own childhood and the films of Hayao Miyazaki, working with Oscar®-winning duo David Martí and Montse Ribé (Pan's Labyrinth) to dream up the mythical tobacco monster at the center of this sensitive coming-of-age tale.

—AFI Silver Theatre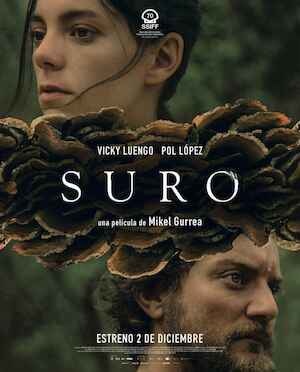 Expecting their first child, young architects Helena (Vicky Luengo, The Laws of Thermodynamics) and Ivan (Pol López, The Replacement) are leaving Barcelona behind for the idyllic Catalonian countryside. With plans to turn a crumbling cork plantation into a chic rural retreat, the idealistic couple are eager to get to work. But they are quickly overwhelmed by an onslaught of responsibilities: an old donkey, impending wildfires and a forest of cork in need of harvesting. A young, undocumented day laborer from Morocco ignites simmering tensions of race, class and gender, exposing deep cracks in Helena and Ivan's relationship.
With his feature debut, Basque filmmaker Mikel Gurrea crafts a dynamic relationship drama featuring thrilling performances from its two leads which earned them all top prizes at Spain's prestigious San Sebastián Film Festival.

—AFI Silver Theatre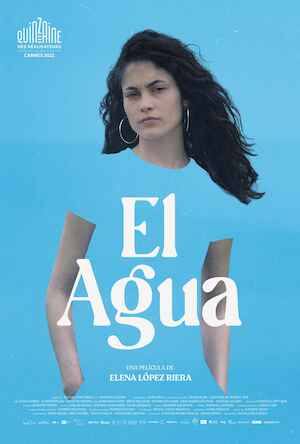 It is summertime in southeastern Spain and teenaged Ana and her friends pass the time smoking, drinking and dreaming about how to escape their decaying village. When she falls in love with the out-of-towner José, Ana is warned of an impending storm by her mother and grandmother, one that threatens to cause the cursed river to overflow and sweep Ana and her beauty away, as it has for generations of other local women.
Under a crackling sky, Riera blends magical realism, documentary and mysticism into a stunning, naturalist folktale about the desire to break free of tradition and love without consequence.

—Gene Siskel Film Center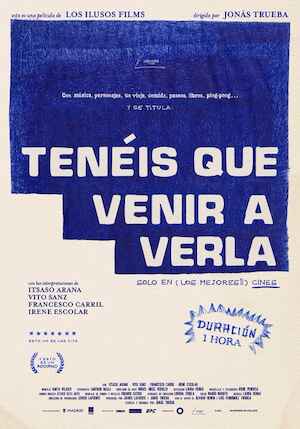 Two couples who meet again in their house on the outskirts have conversations about the essentials of life. There, they eat, play, walk, and enjoy a relaxed day.
Jonás Trueba (The August Virgin, The Romantic Exiles) paints an alternately rapturous and neurotic impression of contemporary Western living in his small-scale, yet endlessly rich new feature. Two couples reunite for a concert and drinks after they have been kept apart from each other for months by the pandemic and major life changes. During two movements, in winter and summer, set in Madrid and in the countryside, Trueba allows viewers to eavesdrop on conversations that subtly reveal their emotional and intellectual lives, personal resentments and fears and ruminations on the world's modern political limbo. Trueba's gentle, clear-eyed film is both a cosmopolitan fable and a return to nature, buoyed by a chorus of living artists and philosophers —pianist and composer Chano Domínguez, cultural theorist Peter Sloterdijk and poet Olvido García Valdes— whose words and music are as integral to the overall experience as the characters' enveloping dialogue.

—New York Film Festival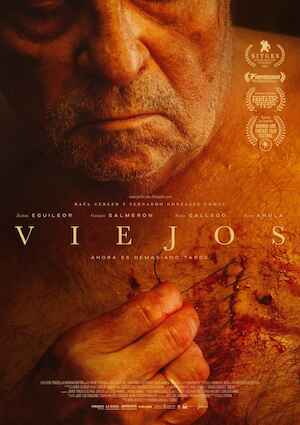 After his wife suddenly commits suicide, octogenarian Manuel (Zorion Eguileor) starts behaving strangely, much to the distress of his family and his increasingly independent granddaughter. His family is confused and angry, and as the temperature in Madrid reaches record heights, it appears that Manuel isn't the only senior citizen preparing for something big. All the elderly folk are acting suspicious, and they all seem to know something the young ones don't.
In their contemporary take on Invasion of the Body Snatchers, […] co-directors Raúl Cerezo and Fernando González Gómez weave the small story of a single family into something bigger, weirder and a lot scarier. Combining body horror and science fiction with a commentary on how society treats its elders, The Elderly is the latest in a new wave of eerie, high-concept Spanish genre films that confirm there's something truly paranormal brewing on the peninsula.

—Fantastic Fest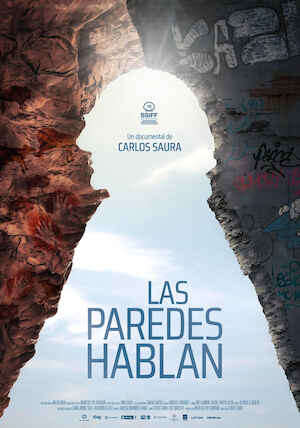 Walls can talk is the unique vision of acclaimed and award-winning director Carlos Saura on the origin of art. In this documentary film, he portrays the evolution and relationship of art with the wall as a canvas of creation from the first graphic revolutions of prehistoric caves to the most avant-garde urban expressions.
Always fascinated by the intricacies and surprises inherent in human evolution, legendary Spanish director Carlos Saura (Cría Cuervos, Flamenco), in his final released film, brings his endless sense of wonder to the intrinsic human desire to create art and the massive stone walls, be they in dank, darkened caves or on sunlit city blocks, that have always been humankind's grandest canvasses. Alongside his brother Pedro, an expert on paleolithic art, Saura explores the very origins of human creativity, from the development of self-awareness and knowledge that life is finite, which led to the stunning images of the natural world that cover cave walls from Altamira to Lascaux, to Taki 183, widely thought of as the first graffiti tagger, and the shift in emphasis from representational art to codified images created solely for others to see. Be they the rectangles, discs and hand stencils that dot the Caves of Cantabria and Asturias or the giant, ghostly human figures of Madrid's own SUSO33, the images in Saura's film remind viewers that humans create art for the same reasons their ancestors did, and are part of the grand and ancient tradition to simply and profoundly say, "I exist, I am here, and this is my world."

—Cine Latino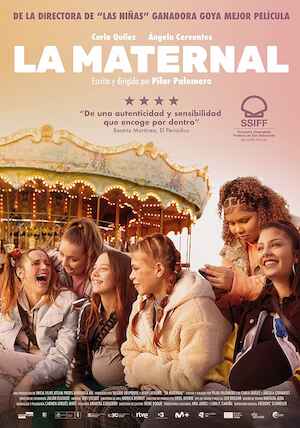 Rebellious and headstrong, 14-year-old Carla spends her days kicking around with her best friend Efrain, fending for herself and wreaking havoc —anything to escape her combustive relationship with her mother. But when social services determine that the slight, still girlish Carla is five months pregnant, they send her to La Maternal, a home for young mothers. Taking counsel and support from the other teens at the center, Carla must quickly learn how to be a parent, even as she resists this new, inescapable role.
With a singular skill for working with young nonprofessional actors, many young mothers themselves, director Pilar Palomero's (Schoolgirls) sensitive social drama deploys an intimate, documentary-like style to explore the tenuous line between childhood and adulthood, daughter and mother.

—Chicago Film Festival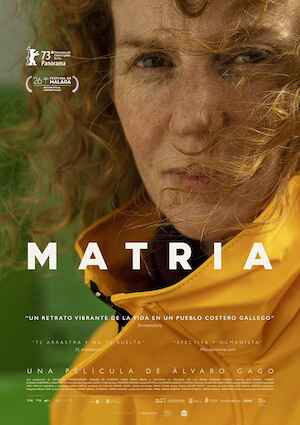 Ramona's life in a Galician fishing village is a constant hustle. She works two jobs to provide for her estranged 18-year-old daughter while living with her not-quite-alcoholic boyfriend. When the industrial cleaning company where she works reduces her wages, Ramona quits and searches for a new job —and something new to live for.
Director Álvaro Gago expands his 2017 short film Matria, to bring to the screen a taut drama about a self-destructive woman's attempt to reshape her life. It's anchored by a fierce, affecting lead performance from María Vázquez, who channels equal parts vulnerability, strength and a wickedly foul sense of humor. Impressive camera work by cinematographer Lucía C. Pan heightens the emotions by getting as close as possible to Ramona and never letting her out of sight. Shot in the Rías Baixas, a region in northwestern Spain, and entirely in the endangered Galician language, Matria is a raw and authentic feature debut from a promising new voice in Spanish cinema.

—AFI Silver Theatre