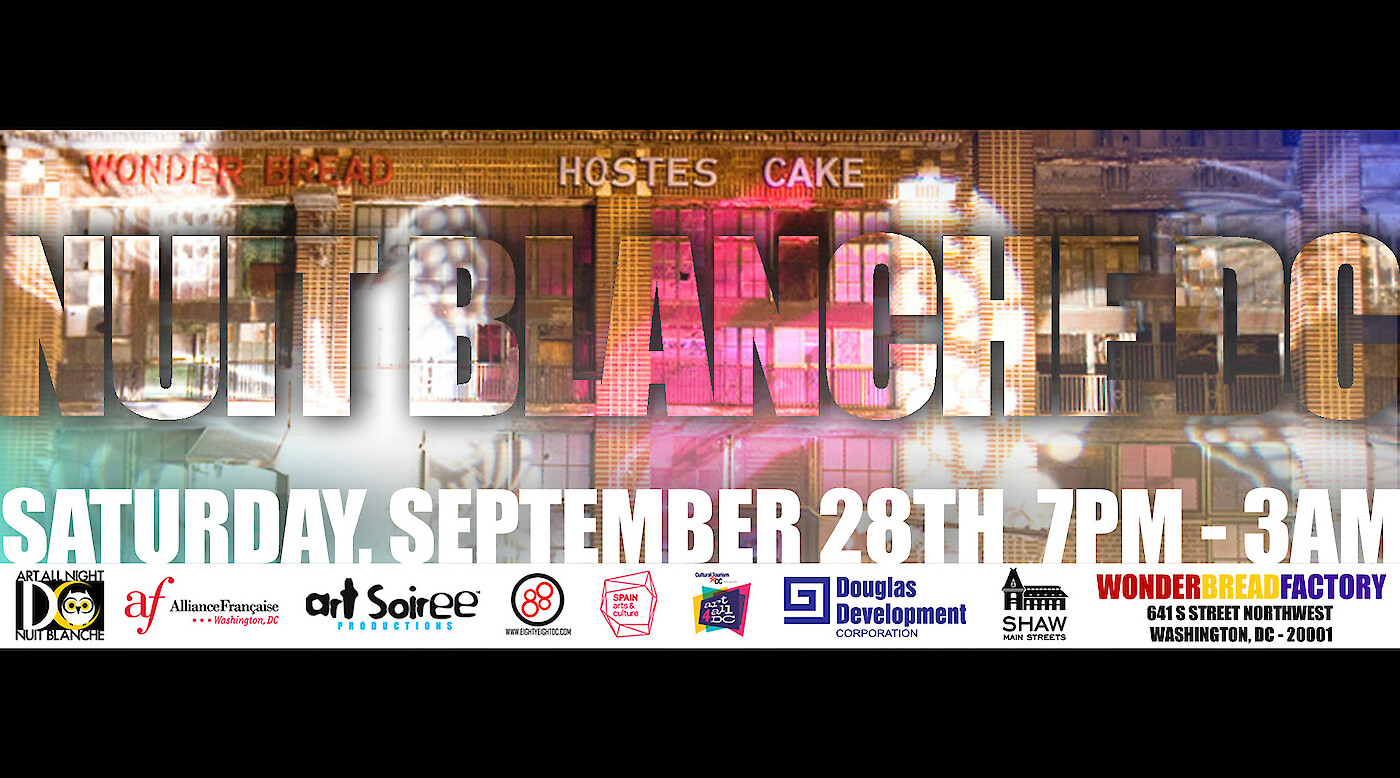 Explore different installations on 4 floors dedicated to performing and visual arts, fashion, and short films, plus DJs who will contribute to an unprecedented mash-up of cultural experiences.
Nuit Blanche is an all-night exploration and celebration of art, which began in Paris in 1984 and has since taken the world by storm. Nuit Blanche DC —now in its third edition— is an innovative project that has the ability to bring an artistic and culturally vibrant nightlife to an area looking to expand its creative economy. 
Alliance Française de Washington, DC, Art Soiree Productions and SPAIN arts & culture curated Wonder Bread factory for this festival for the first time in 2011, gathering over 7,000 guests, and in 2012, at galleries and organizations in the Chinatown and Penn Quarter neighborhoods, gathering 15,000 guests.
This is one of 12 venues included in the Art All Night DC 2013 Festival, presented by Shaw Main Streets and sponsored by Douglas Development Corporation, the DC Department of Small and Local Business Development, and DC Main Streets.
Showcasing from Spain:
Acoustic concert by Luthea Salom

1st Floor / Music Stage / 8 pm. Spanish/Canadian singer songwriter Luthea Salom is becoming a fixture in the European indie music scene. Her well crafted and distinctive songs have led her to be shortlisted for the Grammy Awards in 2008 and 2010, and featured in Rolling Stone Magazine. Her upcoming 4th album, The Little Things We Do, will be released on October 8th by Subterfuge Records.
Exhibition 'Las Calles Hablan' (Mapping Barcelona Public Art)

2nd Floor / Exhibition on view from 7 pm to 3 am + live painting by Spanish artist Balu / 9-10 pm. An exhibition and screening about the evolution of street art in Barcelona. This collective show involves key players in the street scene so that we can better understand the motivations behind this important cultural movement. Featuring works by artists Balu, RICE, SM172, Vegan Bunnies, Konair, Bombing Art and Nineta; photography from Marc Medina.
Video Installation 'Untitled Mind'

3rd Floor / On view from 7 pm to 3 am. Untitled Mind is a multilayered mapped projection design conceived as a short film video dance piece that explores the otherness in the self, focusing in the idea of the mirrored one, the creative ability, the dream, the unconscious mind. Film for installation and cinematic presentation by Laia Cabrera in collaboration with Catherine Correa and Isabelle D
Presented as part of Shaw Main Streets' Art All Night festival.