Flamenco Festival New York 2018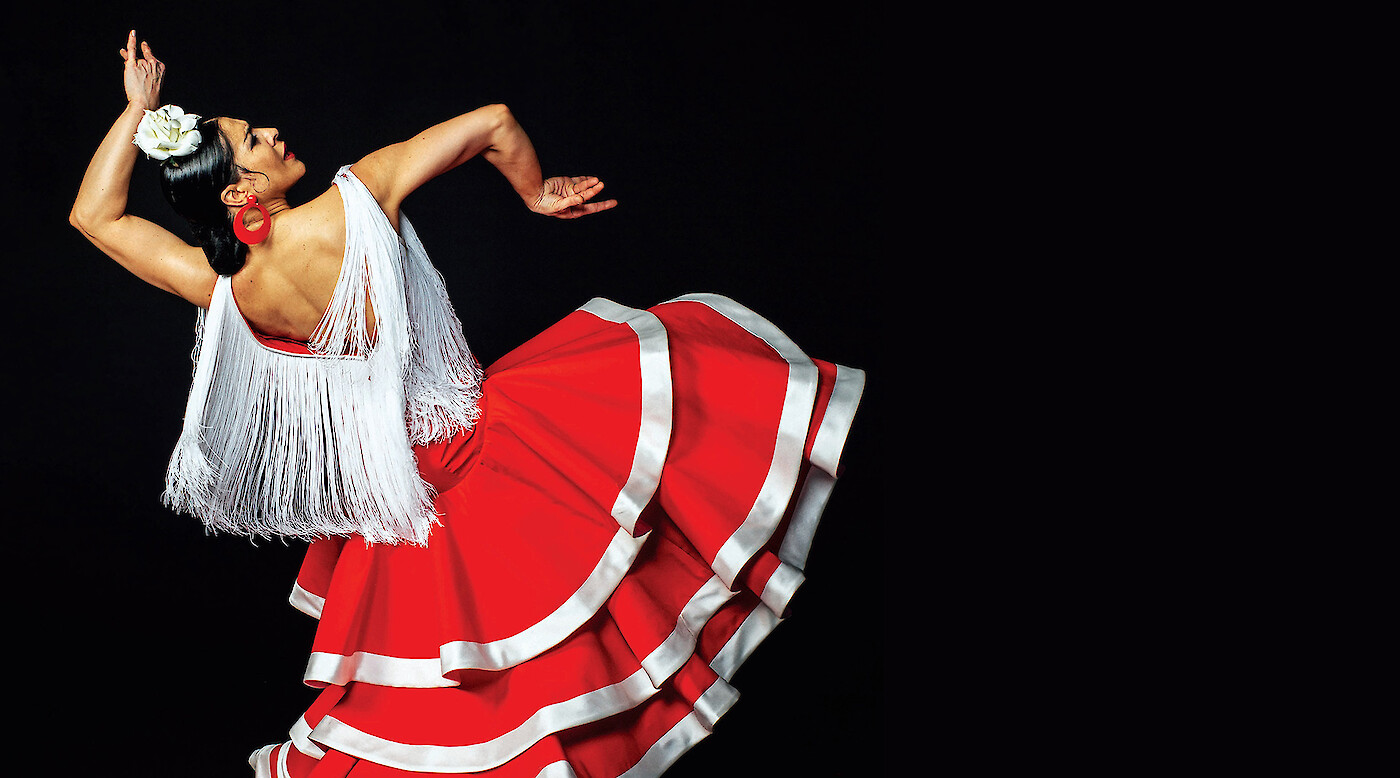 This year's edition aims to highlight the role of creative women and the dialogues of flamenco with other artistic expressions.
For 18 years, Flamenco Festival has been promoting the dialogue between Flamenco, Jazz and music from different origins. As in previous years, the most renowned venues of New York city will host this annual rendez-vous with Flamenco, featuring the some of today's most important Flamenco artists.
On March 2 and 3 at 8 pm.
On March 4 at 7 pm.
At New York City Center, 131 W 55th St, New York, NY 10019. Buy tickets.
Ballet Nacional de España, the greatest exponent of Spanish dance, appears at City Center for the first time in nearly 20 years. The sheer size of the company and its hybrid form that draws from traditional Flamenco and classical ballet make for a unique performance experience. The Ballet has evolved in accordance with the new times and preserved its interest in all styles of Spanish dance including Escuela Bolera, Flamenco, and stylized Spanish dance as performed in Suite Sevilla. Created by the company's director, Antonio Najarro, this piece infuses classic Spanish dance with bold trends in both music and choreography. Heightened by Rafael Riqueni's score, the confluence of dancers and instruments evokes a primal longing for the traditions of Southern Spain.
On March 2 and 3 at 7 pm and 9:30 pm.
With Chano Domínguez, Dick Hyman, Sullivan Fortner, Joey Alexander.
At Jazz at Lincoln Center, 10 Columbus Cir, New York, NY 10023. Buy tickets.
Rags, Strides & Habaneras is a visually dazzling showcase of musical traditions at the core of jazz, Latin jazz, and popular styles from throughout the Americas. Four brilliant pianists and two of New York City's most captivating dancers will bring to life a virtuosic repertoire rooted in Africa and developed through New Orleans, Harlem, Argentina, Cuba, and Spain. Pianists include 90-year-old national treasure Dick Hyman; 14-year-old prodigy Joey Alexander; Flamenco jazz genius Chano Dominguez; and rising star Sullivan Fortner, the American Pianists Association's 2015 Cole Porter Fellow. Tearing up the stage will be tap dancer Jared Grimes, the young phenomenon Eddie Torres, Jr. and the internationally flamenco dancer Jesús Carmona.
On March 3 at 8 pm.
At Roulette, 509 Atlantic Ave, Brooklyn, NY 11217. Buy tickets.
One of Spain's leading flamenco guitarists, Cordoba's award-winning José Antonio Rodríguez will be making a rare New York appearance. A remarkable guitarist renowned for his powerful and evocative renditions of contemporary flamenco, he has composed music for orchestras and dance companies, participated in major projects with Paco de Lucia and Alejandro Sanz, and appeared in Carlos Saura's Flamenco. His recent CD, Adiós Muchachos, was declared by Spain's El País newspaper to be the best flamenco album of 2016. For this program, he will be accompanied on percussion, vocal, and bass. Presented by Robert Browning Associates in partnership with Flamenco Festival.
On March 9 at 9:30 pm.
At Joe's Pub at the Public, 425 Lafayette St, New York, NY 10003. Buy tickets.
With intensity and fervor, Antonio Lizana bridges the worlds of Flamenco and Jazz. Admired as a saxophonist, vocalist, and composer, he has mastered both traditions and brought international recognition to his recordings and performances. Among his many credits is collaborating on a recent CD with Arturo O'Farrill's Afro Latin Jazz Orchestra that won a Grammy for Best Instrumental Latin Jazz Album. For this special occasion, he performs selections from his latest recording, Oriente, where he experiments with Eastern rhythms and sounds in his Flamenco-Jazz mix.
On March 9 and 10 at 8 pm.
At New York City Center, 131 W 55th St, New York, NY 10019. Buy tickets.
International Flamenco superstar Eva Yerbabuena returns to New York for an electric showcase of her artistry. Renowned for her deeply expressive and personal approach to Flamenco, as well as her technical perfection and organic dance, the Spanish artist presents her new show, Carne y Hueso (Flesh and Bone), a striking piece that serves as a prologue to the 20th anniversary of her company. Joined by five dancers and a cadre of musicians, Yerbabuena delivers an unforgettable tour de force performance as one of the most expressive figures dancing today. Her generous intimacy with the audience and technical dominance of the art form has widened the choreographic possibilities of Flamenco.
On March 10 at 9:30 pm.
At Joe's Pub at the Public, 425 Lafayette St, New York, NY 10003. Buy tickets.
Rycardo Moreno, a noted flamenco and Jazz guitarist born in Lebrija into a Gypsy family, returns to New York with his recent show, A Galeano, a tribute to Uruguayan writer Eduardo Galeano from his book Libro de los Abrazos (The Book of Hugs). According to Moreno, the book "was impregnated with music and you just had to decipher it." Ten of Galeano's stories are connected through music, evoking flamenco expressions of the people. Moreno's career has included collaborations with Dorantes, Esperanza Fernández, Buika, and El Lebrijano. Accompaniment on vocals (Lela Soto), and guitar and palmas (Dani Bonilla).
On March 11 at 7 pm.
At New York City Center, 131 W 55th St, New York, NY 10019. Buy tickets.
Jesús Carmona —a pioneer in flamenco's evolution— is a former dancer with Ballet Nacional de España. The flawless footwork and ballet-infused moves that make him a dynamo of a dancer translate masterfully to the work he creates for his own company. For the festival, Jesús Carmona and his company of 11 dancers, musicians, and vocalists perform the emotionally charged Ímpetu's ("bursting with energy"). This work about the boundless energy that drives artists to realize their dreams stars the spellbinding and charismatic Carmona and features famed Spanish scores by Albéniz, Riqueni, and Escudero.
On March 11 at 9:30 pm.
At Joe's Pub at the Public, 425 Lafayette St, New York, NY 10003. Buy tickets.
Acclaimed for its intoxicating blend of traditional and modern sounds, La Banda Morisca returns to the Flamenco Festival after its riveting 2016 appearance. Evoking the cultural heritage of ancient Al-Andalus and its reflection in the sounds of the current Andalusia, the Maghreb, and the Near East, the group mixes Eastern and Western influences from the Mediterranean (including Andalusian moaxajas and North African chaabi) with flamenco and Andalusian rock. The band, composed of impassioned musicians from different backgrounds, is based in the province of Cádiz, home to numerous cultures that have colonized and enriched this land.
On March 14 at 7:30 pm.
At Pace University – Michael Schimmel Center for the Arts, 3 Spruce St, New York, NY 10038. Buy tickets.
Niño de Elche is a cantaor, a singer of Flamenco, but not as we know it. He is a multi-disciplinary artist and contemporary deconstructionist who combines Flamenco singing and toque with performance art, poetry, improvisation, minimalism, singer-songwriting, rock, and electronics. His latest piece is informed by a wide breadth of flamenco compositions such as classical zarzuela pieces, versions of Federico Garcia Lorca's songs (such as the well-known ¡Ay, Carmela!), the fandangos of Helios Gómez, the caracoles of Valcárcel Medina, and will include Flamenco guitar, piano, synthesizers, and electronica. Curated by Isabel Soffer / Live Sounds.