Starring Europe: New Films from EU
Spanish film Loreak (Flores) will be screened at Starring Europe: New Films from EU in Los Angeles.
The EU Film Festival provides an opportunity for international cinema enthusiasts in Los Angeles to celebrate and discover contemporary films from across the European Union.
Spotlighting festival award-winners from Austria, Belgium, Bulgaria, Czech Republic, Estonia, Finland, Germany, Greece, Italy, Latvia, Lithuania, Luxembourg, Poland, Romania and Spain, the short and feature films here embody the rich heritage and diversity of cinema from Europe.
With talent from the films invited to speak at screenings and an opening-night reception featuring food and beverages from participating nations, this is an ideal way for expats and Los Angeles residents alike to experience these European delicacies.
Loreak (Flowers)
Spain, 2014, 99 minutes.
Director: Jon Garaño, Jose Mari Goenaga.
Cast: Josean Bengoetxea, Nagore Aranburu Itziar Ituño, Itziar Aizpuru, Egoitz Lasa.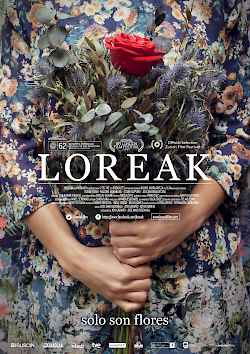 Ane lives a quiet life, trapped in a seemingly loveless relationship, until she suddenly starts to receive weekly, anonymous bouquets of flowers. Meanwhile Tere wants nothing more than a grandchild, but her only son Beñat and his second wife Lourdes have other plans. A sudden, tragic event jolts all of their lives into a new reality, and flowers start to appear anonymously once again, in a different context: they no longer represent passion but a deep emotional memory.
With a deep compassion for their characters, directors Jose Mari Goenaga and Jon Garaño (For 80 days) examine the lingering consequences of the simple gesture of giving flowers, and the power inherent in something so delicate.
Emotionally precise, subtle, and quietly gripping…This is cinema for grown-ups, made for viewers with the life experience making them capable of recognizing its truths - but at the same time accessibly structured, like a thriller.

— Jonathan Holland, The Hollywood Reporter
About director Jon Garaño
Born in San Sebastian, Spain, Jon Garaño has made multiple documentaries and short films for TV. Jose Mari Goenaga, born in Ordizia, Spain, studied in San Sebastian and directed multiple award-winning short films. Both Garaño and Goenaga are founding members of Moriarti Produkzioac, a Basque production company.
Loreak (Flowers) will be screened in double feature with the Polish film Gods (Bogowie, 2014, 120 min, Poland, Dir: Lukasz Palkowsk). Check the full calendar of films.