Juana la Loca at the 23rd Boston Ibero-American Film Festival
The Boston Ibero-American Film Festival brings this year the award-winning film Juana la Loca, a love story full of passion, lies, and political motives.
Juana la Loca (Mad Love)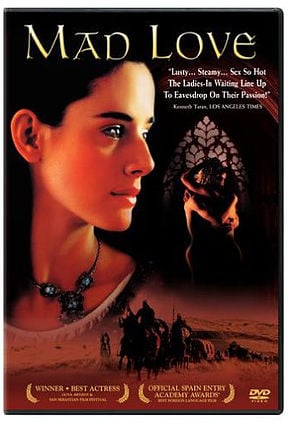 Directed by Vicente Aranda, 2001, 115 minutes. In Spanish with English subtitles.
With Pilar López de Ayala, Manuela Arcuri, Mercedes Morán, Eloy Azorín, Rosana Pastor, Héctor Colomé, Roberto Álvarez, Andrés Lima, and Daniele Liotti.
Laredo, August 22, 1496. A fleet sails bound to Flanders. Its goal is to escort princess Juana de Castilla (Joanna of Castile) to the court in Brussels, where she will marry the man who later will be known in Spain as Felipe el Hermoso (Phillip the Handsome). Their encounter is love at first sight. Barely one glance and there is a spark of desire that distracts them from their political obligations. Nevertheless, fate has other plans: the deaths of her elder brothers and her mother, Isabel la Católica (Elizabeth the Catholic), turn princess Juana into queen of Castilla and heiress to the Crown of Aragon. A story of passion, jealousy, and infidelity, Juana la Loca (Mad Love) tells the love story that transformed Juana, princess of Spain, into Juana "the Mad."
About the Ibero-American Film Festival
The Ibero-American Film Festival is one of the most exciting cinema events from the Spanish and Portuguese speaking cultures. Starting its 23rd edition, the Festival has screened more than 180 films from 12 countries, reaching a diverse audience of over 8,000 people. This year's festival features a selection of international award winners that entertain, educate, and empower the audience.