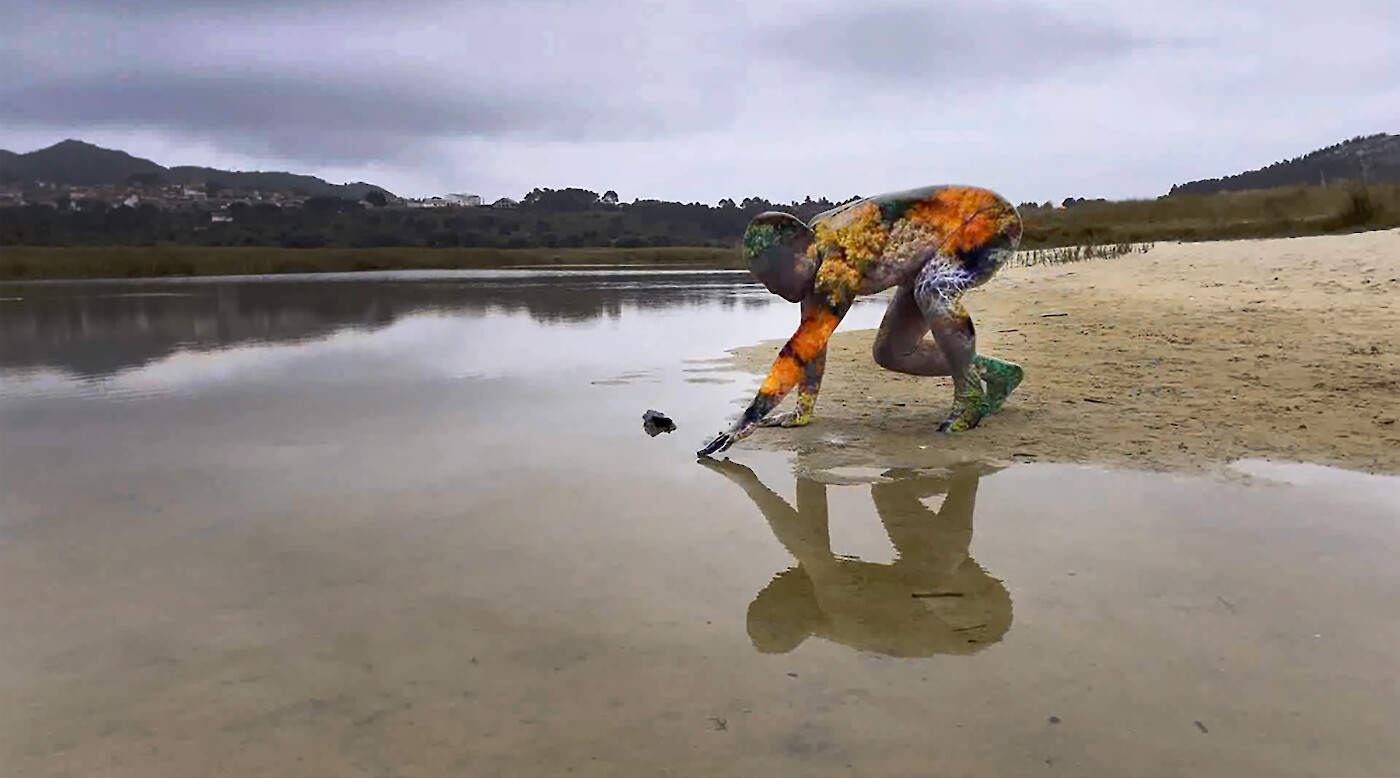 This screening of a series of two-minute videos curated by Andrés Senra and Nicolás Dumit Estévez reflects on the concepts of caring for the planet, ecofeminisms and ecoqueerism.
We Were Never Human consists of a screening of a series of videos/video performances reflecting on the concept of caring for the planet, including practices such as rituals, anti-speciesism, ecofeminisms, ecoqueerism, anti-ableism and anti-racist artivisms. These videos question otherness and also subvert anthropocentrism.
We Were Never Human emerged from Alliances of Care and Desire, a project by Andrés Senra for The Interior Beauty Salon, in which Senra focuses on the possibility of queering identity beyond gender binaries, as well as dismantling the dual Western value system that separates the human from the non-human. According to this view, the system of Western knowledge organizes the universe according to taxonomic rules that separate and divide it into artificial/natural, subject/object, mind/body, organic/inorganic, living/non-living, woman/man, human/non-human, human/animal, ability/disability, nature/culture, white/non-white, reason/emotion, freedom/necessity, civilized/wild, and so on, assigning positive and negative values in a hierarchical way. Negative values have traditionally been assigned to the feminine, the queer, the animal, and the non-white.
About Andrés Senra
Spanish artist Andrés Senra received the Multiverso Videoart Grant from the BBVA Foundation in 2015, the Fase 7 Mobility Art Grant of The Spanish Agency for International Development and Cooperation (AECID) in 2014, and an artist research grant of the Reina Sofía National Museum of Contemporary Arts of Spain in 2013-2014. In 2012 he was selected by the Goethe-Institut and Instituto Cervantes of Spain for the art program Participar.de taking place in Berlin, Madrid and Toulouse. In 2012 and 2013 he received the Ministry of Culture Grant for the promotion of Spanish art abroad. In 2009 he received the Madrid Procesos artist Grant of AVAM and Karl Hofer Universität Der Künste, Berlin, and in 2005 was artist in residence at the Contemporary Art Center La Casa Encendida in Madrid.
Winner of the Casa Velázquez Prize for Art Creation at Estampa 2009, he has also received, among other prizes, the Region of Madrid Award for art creation in 2008.
His work has been exhibited in important galleries and museums around the world such as Museo Nacional Centro de Arte Reina Sofía MNCARS (Spain), VanAbbe Museum (Holland), Art Center Nabi (Korea) or Centro Cultural Recoleta (Argentina).
Participating artists
Dimple B Shah, Daniela Beltrani, José Carlos Casado / Fantasía Collage (Aurora Duque de la Torre & María Huerta Arce (Lo Súper)), Gwen Charles, David Farrán de Mora, Félix Fernández, Aitor Flores, Heather Fries, Ivana Larrosa, Marisa Maza, Carali McCall, Ildiko Meny, Amaia Molinet, Ruth Montiel Arias, Iván Pérez, Cristián Pietrapiana, Anna Recasens, Carlos Rivero, Ruth Somalo, Tatu Vuolteenaho, Jody Wood and Jennifer Zackin.