Pablo Sáinz-Villegas 2022 U.S. tour in New York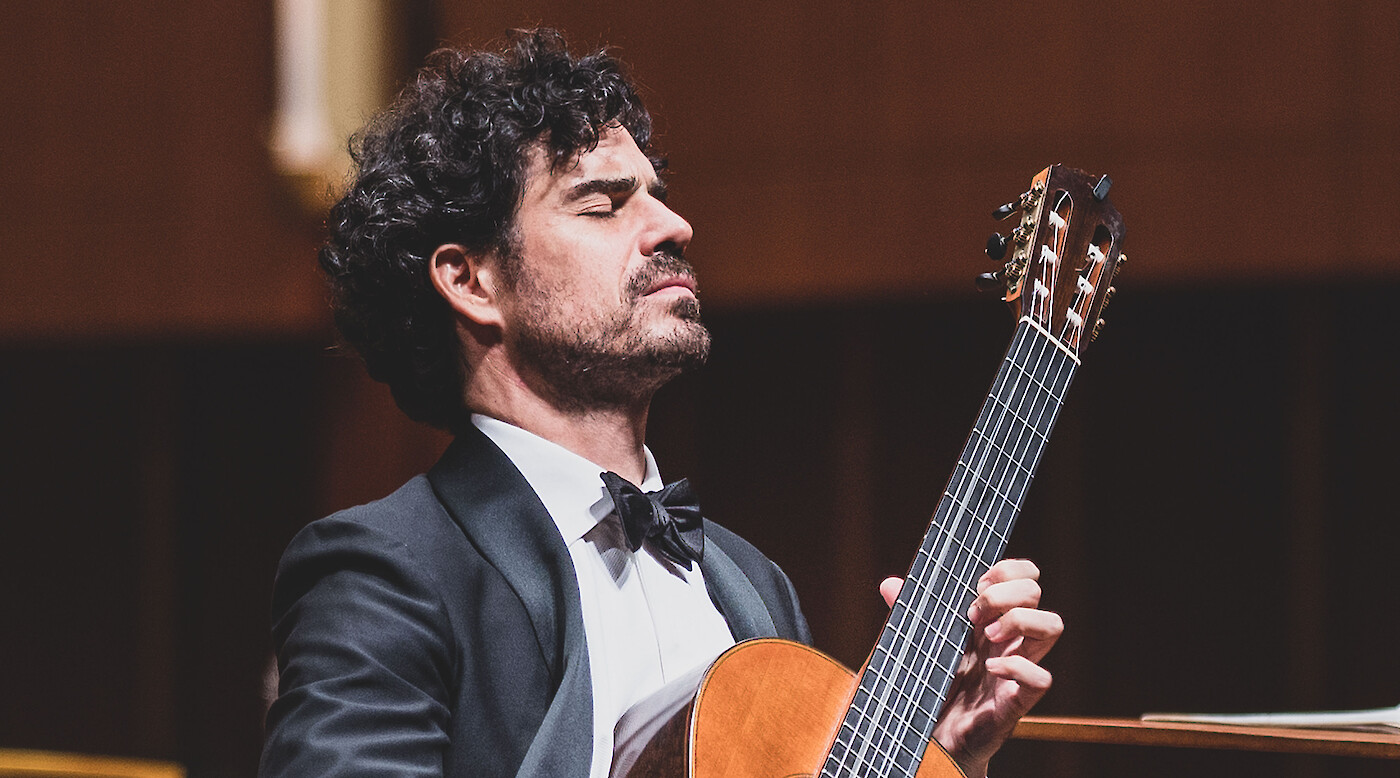 Pablo Sainz-Villegas returns to the stage that launched his U.S. career for a in-person and online concert including selections of Granados, Rodrigo, Tárrega and Albéniz.
Widely considered the successor to the great Andrés Segovia and the 21st century "soul of the Spanish guitar," Pablo Sainz-Villegas will perform selections at the heart of his artistry by Granados, Rodrigo, Tárrega, Albéniz and more. This program of iconic works showcases the technique, deep musicality and passionate intensity that define the Spanish guitar artform.
Sainz-Villegas has played in more than 40 countries with prestigious orchestras (Berlin Philharmonic Orchestra, Chicago Symphony Orchestra, New York Philharmonic Orchestra, Philharmonic Orchestra Israel, San Francisco Symphony Orchestra, Zurich Tonhalle Orchestra, National Orchestra of Spain), important directors (Miguel Harth-Bedoya, Carlos Kalmar, Alexander Shelley, Richard Egarr, Robert Spano or Juanjo Mena) and on big stages (Tchaikovsky Concert Hall Moscow, Musikverein Vienna, Concertgebouw Amsterdam, National Center for the Arts Beijing, Hollywood Bowl Los Angeles), thus becoming the "global ambassador of the guitar Spanish" according to Billboard Magazine.
Sáinz-Villegas has been awarded more than 30 international prizes, as well as the Rioja Arts Award, the Critical Eye Award from Radio Nacional de España and the Trelles Villademoros awarded by the Royal Body of the Nobility of the Principality of Asturias.
A socially committed artist, he founded in 2006 the philanthropic project The Legacy of Music Without Borders. Since then, he has shared his music with more than 45,000 children and young people around the world. During the Covid-19 pandemic, in 2020, he offered live concerts on social networks that garnered more than 300,000 views.
Program
Granados: Danza Española No. 10, "Danza Melancólica" & Danza Española No. 5, "Andaluza"

Rodrigo: Invocación y Danza & Homage to Manuel de Falla

Tárrega: Capricho Árabe & Lágrima Adelita

Albéniz: Torre Bermeja & Piezas Características

Albéniz, Mallorca, "Barcarola"; Asturias, "Leyenda" & Suite Española

Gimenez: La boda de Luis Alonso