SPAIN Dances: Choreographic Residency 2021 with Elías Aguirre
The Choreographic Residency organized by the Cultural Office of the Embassy of Spain and L.A. Contemporary Dance Company offers a unique experience for Spanish choreographers to work with U.S. dance companies.
SPAIN Dances, the dance program of the Cultural Office of the Embassy of Spain, is conceived to provide professional opportunities for Spanish dances and choreographers in the United States. The Choreographic Residency aims at fostering artistic dialogue between Spanish and American dancers and choreographers, and serve as an incubator for new or in-process work.
The host company selected for the 2021 edition was L.A. Contemporary Dance Company. The invited choreographers for the 2021 edition were Elías Aguirre, and Ruth Muelas as choreography assistant. This week-long residency with Aguirre concluded with a dance film directed by LACDC's artistic director Jamila Glass.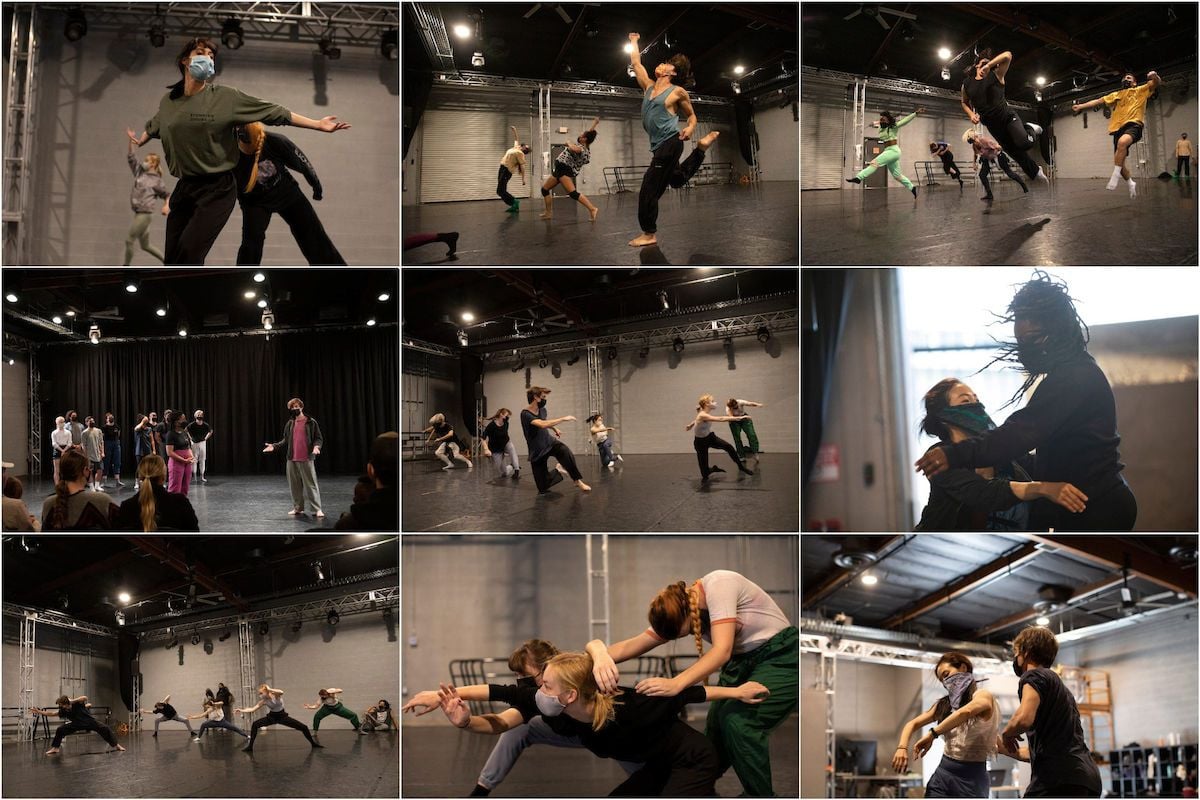 Trailers
Trailer from one of the residency rehearsals
Choreography by Elías Aguirre.
Choreography Assistant: Ruth Muelas.
Music by Jorge da Rocha.
Cast: Christian Beasley, Hyosun Choi, Kate Coleman, Jamila Glass, Nicole Hagen, Colleen Hendricks, Tess Hewlett, Marlon Pelayo, JM Rodriguez and Ryan Ruiz.
Rehearsals filmed by Joy Isabella Brown; trailer edited by Danielle King.
Trailer for the resulting film: INSECTOS arte y vida
Produced, Directed & Edited by Jamila Glass.
Choreography by Elías Aguirre. based on the Elías Aguirre production of Insecto Primitivo.
Dancers: Christian Beasley, Hyosun Choi, Kate Coleman, Jamila Glass, Nicole Hagen, Colleen Hendricks, Tess Hewlett, Marlon Pelayo, JM Rodriguez, Ryan Ruiz.
Cinematographer: Noah Jaxson Griffin. Composer: Jorge da Rocha. Wardrobe stylist: Angel Tyson. Lighting technician: Claire Chrzan. B camera pperator: Joy Isabella Brown. Assistant director: Ayesha Orange. Choreography assistant: Ruth Muelas. Wardrobe stylist assistant: Ryan Ruiz. Production assistants: Jolie Ponchetti, Derrick Paris. LACDC's Executive Director: Napoleon Gladney.
Filmed in 2021 at Stomping Ground L.A.
The dance film resulting from this residency will be accessible for free for 48 hours (February 1 and 2, 2022).
About Elías Aguirre
A dancer, choreographer, photographer and visual artist, Elías Aguirre has been performing around the world. Aguirre runs his own dance company in Madrid, Cía. Elías Aguirre, and codirects the dance project entomo in collaboration with Álvaro Estebán. He has performed and taught workshops in several cities across the world. As part of his work as choreographer and dancer, he develops a personal project of photography and video dance.
The result was surprisingly positive. None of us had imagined that in such a short time we would have such outstanding results. The work carried out with the dancers has been very good. They are used to another type of work, a much more formal training, so this new project brought them closer to new sensations and ways of moving and understanding their own dance.

As for company-related work, I have been doing research for some time on a range of concepts around sensations and imagery, which in the future I would like to define as "my own technique," as it refers to a very particular way of moving and understanding dance; it is like a technique in itself because it involves observing the invisible nature, that which goes unnoticed. I have been talking about these concepts for years. I have synthesized them into words or short phrases, all of them in English, but I did not know if they would make sense to dancers who are used to taking technical classes in English.

It has been a pleasant surprise to see how well they understand my concepts and how they really express what I want through their body and movement. I have talked to them a lot about it, and they understand that my technique is perfectly expressed through these concepts, such as: "Moving Pause," "Liquid Contact," "Skating Wolves," "Horse Mantis," "Sick Capoeira," "Fish Out Landings," etc.

This experience has been very useful to me because it has not only been a choreographic exchange with American dancers, but it has also helped strengthen my methodology for physical training and for artistic and creative movement.

Incorporating Ruth Muelas into the project was a huge help given her teaching background and her experience as a member of the company for 12 years. The dancers were very grateful for her professional presence and human touch. She has equally been working with the dancers, as we both took turns to take pictures and audio-visual records of all the proposals made and the work done.

It was a really good experience for us. We all found it very short and are looking forward to repeating it.

—Elías Aguirre
About L.A. Contemporary Dance Company
LACDC has presented work at venues throughout L.A. including Dorothy Chandler Pavilion, The Broad Stage, Ford Amphitheatre, L.A. Theatre Center, Odyssey Theatre, Alex Theatre, Los Angeles County Museum of Art, The Broad Contemporary Art Museum, and Natural History Museum. Other notable performances include Lincoln Center (NYC), Kennedy Center (DC), Newman Center for the Performing Arts (Denver), ODC Theater (San Francisco), Laguna Beach Art Museum, and Palm Springs Art Museum.
The company has also toured internationally with sold out performances in Argentina and New Zealand. In 2018, LACDC was proud to be the first American headlining company to perform for Tempo Dance Festival in Auckland.
Additionally, LACDC often expands its reach to collaborate with key artists and brands in the entertainment industry. The company has also collaborated with major brands for the commercial campaigns of Samsung, American Apparel, and Hikvision USA, music videos for Vitamin String Quartet & K-Pop star Sulli, and was recently featured in the Netflix television series Dear White People.