Washington National Opera: Cinderella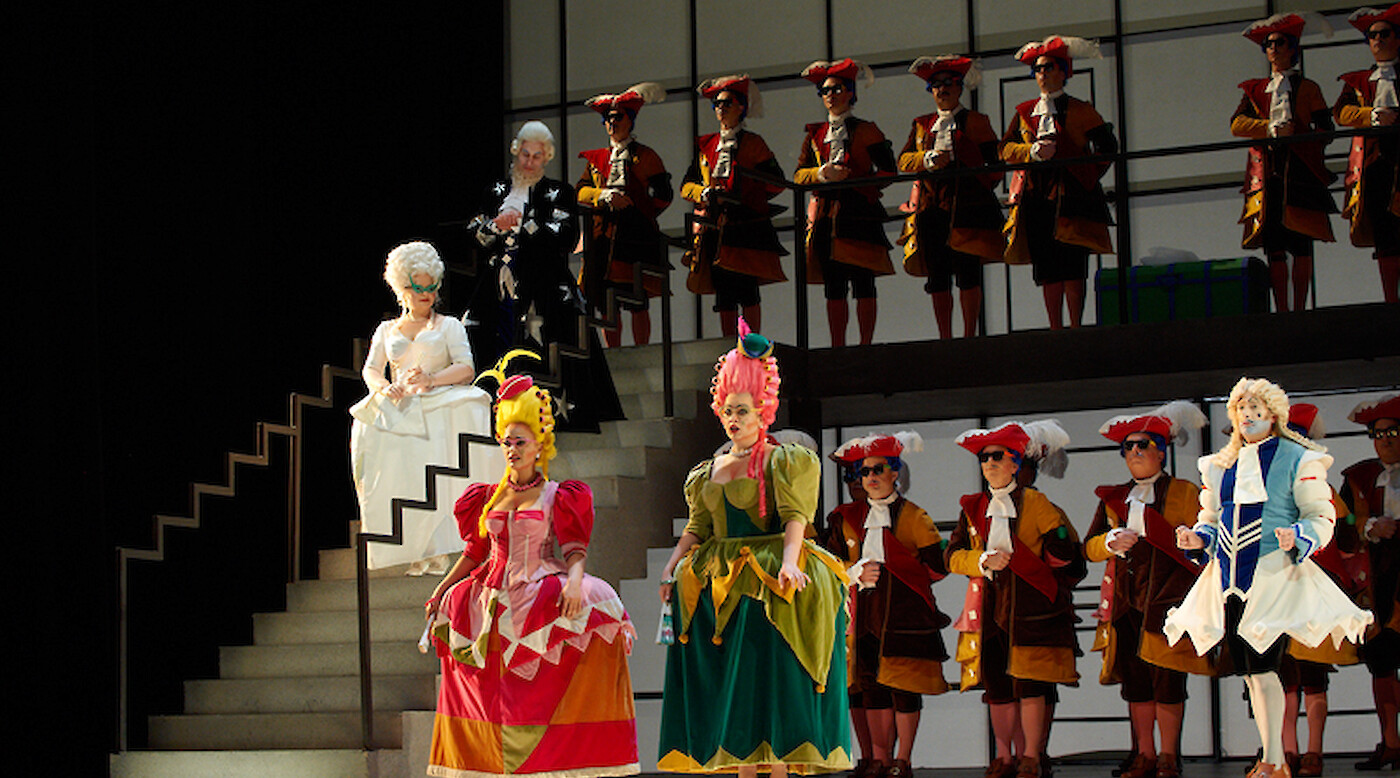 A bright and whimsical production by Spanish director Joan Font and his performance troupe Els Comediants.
Rossini's popular retelling of Charles Perrault's beloved Cinderella story adds a few fabulous twists to the traditional fairy tale, a perfect springtime treat for the entire family. In this bright and whimsical production by Spanish director Joan Font and his performance troupe Els Comediants, a kindhearted girl named Angelina dreams of one day escaping her impoverished stepfather's castle. When the prince announces he'll choose his bride at a glamorous ball, she seizes the opportunity to escape the tyranny of her vain stepsisters and take control of her own destiny.
Audiences of all ages will delight in this clever romantic comedy featuring bracelets instead of glass slippers, a philosophical tutor in place of a fairy godmother, and six adorable dancing rats that serve as a makeshift Greek chorus. Considered one of his finest vocal works, Rossini's opera glows with captivating bel canto singing and ornate ensemble passages performed by a thrilling cast of young talents, including American opera singer and 2013 Richard Tucker Award winner Isabel Leonard alternating in the title role with celebrated Irish mezzo-soprano Tara Erraught in her U.S. debut.
Gifted conductor Speranza Scappucci makes her WNO debut leading the orchestra in a marvelously perfect show (Los Angeles Daily News) that has enchanted audiences from Seattle to Toronto to Barcelona with its witty characterizations, rainbow-bright costumes, and rags-to-riches ending that celebrates the power of love and forgiveness.
Cinderella(La Cenerentola, 1817)
Libretto by Jacopo Ferretti, after Cendrillon by Charles Perrault.
In Italian with projected English titles. Titles may not be visible from the rear of the orchestra. Performance duration: Act I, 95 minutes; Intermission, 20 minutes; Act II, 58 minutes
With Angelina (Cenerentola): Isabel Leonard (May 9, 13, 16, 19, 21) / Tara Erraught (May 11, 15, 17m). Don Ramiro: Maxim Mironov (May 9, 13, 16, 19, 21) / David Portillo (May 11, 15, 17m). Dandini: Simone Alberghini. Don Magnifico: Paolo Bordogna(May 9, 11, 13, 16, 19, 21) / Valeriano Lanchas (May 15, 17m). Alidoro: Shenyang. Tisbe: Deborah Nansteel. Clorinda: Jacqueline Echols.
Conductor: Speranza Scappucci. Director: Joan Font. Set and Costume Designer: Joan Guillén. Lighting Designer: Albert Faura. Choreographer: Xevi Dorca
Come early for free Opera Insights
Musicologist Saul Lilienstein leads the Thursday, May 21 Opera Insight, starting 1 hour and 15 minutes before the performance and lasting 35–40 minutes. All other Opera Insights start 1 hour before the performance and last 20–25 minutes.
Informative and entertaining, Opera Insights take you inside the composer's mind, behind the scenes of planning a production, and into the history and social context of each opera.
These lectures are free, but patrons must present a ticket from any performance of Cinderella.
Stay after for a free Artist Q&A
Following the performances on Monday evening, May 11 and Sunday matinee, May 17. Join WNO artists for a unique opportunity to ask questions about the production. All discussions begin immediately after the performance and are free with your ticket.
Isabel Leonard has a radiant, bell-like voice and a captivating sense of drama… What a voice it is –supple, perfectly controlled, capable of great power, but with a lilt, purity and expressive warmth.

—The Washington Post