También la lluvia at Fair Water
This new program dedicated to the human right to safe drinking water and sanitation, sustainability and diplomacy in the arts, features the screening of "También la Lluvia" by Spanish director Icíar Bollaín.
También la lluvia (Even the Rain)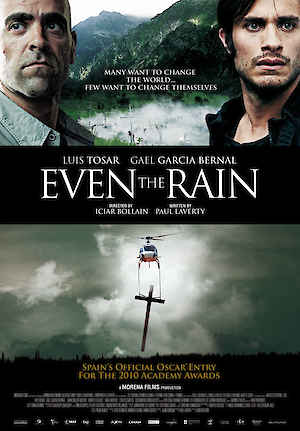 Directed by Icíar Bollaín, Spain / Mexico / France, 2010, 103 minutes.
In Spanish with English subtitles. Watch trailer.
A Spanish film crew helmed by idealistic director Sebastian (Gael García Bernal) and his cynical producer Costa (Luis Tosar) come to Bolivia to make a revisionist epic about the conquest of Latin America –on the cheap. Carlos Aduviri is dynamic as Daniel, a local cast as a 16th century native in the film within a film. When the make-up and loin cloth come off, Daniel sails into action protesting his community's deprivation of water at the hands of multi-national corporations. When riots break out in Cochabamba, protesting excessive fees for water, production is interrupted and the convictions of the crew members are challenged. Sebastian and Costa are forced to make an unexpected emotional journey in opposite directions.
This event is part of the Fair Water: A Right of All program.