Summer 1993 at AFI European Union Film Showcase
Now in its 30th year, the AFI European Union Film Showcase continues its tradition of bringing the best in European cinema to Washington, D.C.-area audiences.
From December 1 to 20, AFI Silver Theatre and Cultural Center hosts the 30th edition of the AFI European Union Film Showcase. This year's selection of over 40 films includes international film festival award winners, European box office hits and debut works by promising new talents, plus many countries' official Oscar® submissions for Best Foreign Language Film.
Spanish film at 2017 AFI European Union Film Showcase:
Summer 1993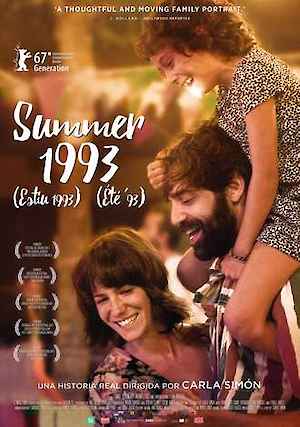 On Saturday, December 9 at 3:15 pm. Buy tickets.
On Wednesday, December 13 at 7:15 pm. Buy tickets.
Directed by Carla Simón, Spain, 2017, 97 minutes. In Catalan with English subtitles. View trailer.
Winner of the Best First Feature Award at the 2017 Berlin Film Festival, Catalan director Carla Simón's poignant debut is drawn from her own childhood experiences. Bringing the viewer into the upended world of six-year-old Frida (Laia Artigas) following her mother's death, Simón traces the young girl's confusion as she moves to the countryside to live with her aunt's family. The adjustment is far from easy and Frida is not sure she actually needs –or wants– a new family.
Without sentimentality, Simón honestly captures the feeling of being a small child adrift in the world, and the heroic patience and imagination required of her new guardians to anchor her and tell her she's loved. Best First Feature Award, Grand Prix of the Generation Kplus International Jury, 2017 Berlin International Film Festival; Best Director, 2017 Buenos Aires International Festival of Independent Cinema; Dunia Ayaso Award, Golden Biznaga, 2017 Málaga Spanish Film Festival; Official Selection, 2017 London, Busan, Chicago film festivals.