Spain's 1939 Exiles in the Americas and Maryland
Spanish writer José María Naharro-Calderón presents his book "Spain's 1939 Exiles in the Americas and Maryland – Eighty Years, Alive in Our Hearts."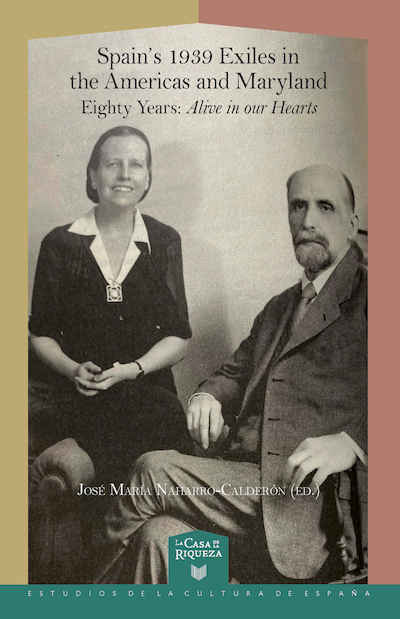 Exile, a global and protean phenomenon, touched about half million Spanish Republican refugees at the end of the 1936-39 War in Spain. Contrary to Mexico's significant sheltering, the USA mainly admitted a select group of intellectuals: notably, Zenobia Camprubí and her partner, the 1956 Nobel Prize for Literature recipient, Juan Ramón Jiménez, University of Maryland (1943-1951), Pedro Salinas (Johns Hopkins University), or women like Carmen Aldecoa, or Carmen de Zulueta, who kept alive the progressive gender and education claims from the Second Spanish Republic (1931-1939) at other schools and universities.
Nevertheless, widely supported relief organizations and leftist publications channeled aid for the exiles, and rose antifascist awareness for U.S. intellectuals such as Noam Chomsky. Contributions herein this volume, generated 80 years later at the University of Maryland during an international symposium (2019), throughout a continuing academic interest for this diaspora, will illuminate readers on the depth of Spanish exile studies in the Americas, and some lasting contributions from this significant group of witnesses.
About the writer
José María Naharro-Calderón is Professor of Iberian Literatures, Cultures and Exile Studies at the University of Maryland. He has been a pioneer mapping itineraries from key Spanish 1939 exiles and milestones: Celso Amieva, Max Aub, María Luisa Elío, Juan Ramón Jiménez, concentration camps, etc. He is the president of the Asociación para el Estudio de los Exilios y las Migraciones Ibéricas Contemporáneas (AEMIC, 2016-2024). For the past 20 years he has coordinated the Diásporas y Fronteras Summer Seminar in Llanes, Asturias, Spain.
Participants
Miguel Albero, Cultural Counselor Embassy of Spain in Washington, D.C.
Magín Revillo, former Chief Correspondent in Washington for RTVE (Spanish National Radio and Television). Dr. Revillo,Phd in Journalism from the Universidad Complutense, is a specialist on the Cuban-Spanish-American War of 1898.
Nélida Devesa Gómez, Howard University. Dr. Devesa Gómez, a former Fullbright scholar in Journalism and PhD in Spanish from the University of Maryland, writes on the 1939 Spanish exiles in the USA.
Anne Giller-Wilde, Catholic University. Dr. Giller-Wilde, PhD in Spanish from the University of Maryland, is a scholar on Contemporary Spanish narrative through market theory strategies.
Juan Uriagereka, University of Maryland. Dr. Uriagereka, PhD in Linguistics from the University of Connecticut, focuses on bio linguistics, syntax and social justice. His work in progress studies language structure as linear operators.
José M. Naharro-Calderón, University of Maryland. Dr. Naharro-Calderón, PhD in Spanish from the University of Pennsylvania, is a pioneer in 1939 Spanish exile studies. His work in progress focuses on antifascist Anglo-American expatriates.