Out in the Open by Jesús Carrasco in Washington, D.C.
Spanish author Jesús Carrasco presents his award-winning debut novel in a conversation with Cuban-American writer Gabrielle Fuentes, and moderated by Matthew Davis, Director of The Alan Cheuse International Writers Center of George Mason University.
Out in the Open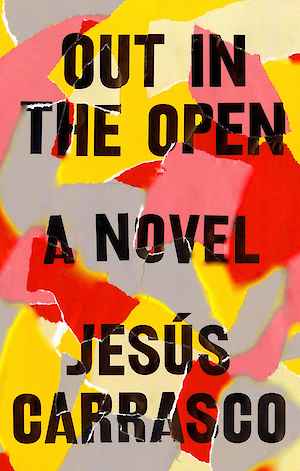 Riverhead Books, 2017.
Translated by Margaret Jull Costa, winner of the English PEN Award.
"From inside his hole in the ground, he heard the sound of voices calling his name." So begins Out in the Open by award-winning Spanish author Jesús Carrasco. The boy crouching in the hole is fleeing from his family, hiding in a grave of his own making. He eventually emerges, but his destiny is not one of ease.
From its haunting opening words to its heartbreaking conclusion, Out in the Open is a stark novel. Carrasco's debut has been a bestseller in Europe, earning him the English PEN Award, and has been published in over 25 languages. Riverhead Books published Margaret Jull Costa's translation on July 4, 2017. His second novel won him the 2016 European Union Prize for Literature.
Out in the Open takes place in a chilling dystopia that calls to mind the bleakness of Cormac McCarthy's The Road or Samuel Beckett's theater. We're introduced to a boy hiding beneath the ground from an armed mob sent to capture him, and we follow him as he flees across an unnamed, drought-stricken country ruled by unspeakable violence. As he crosses this barren landscape, he is faced with a choice that will determine the direction of the rest his life: choose hope and bravery, or live forever mired in the brutality with which he grew up.
A tale of life and death, right and wrong, terror and salvation, Out in the Open is simultaneously a heart-stopping adventure across a grim wasteland; a deeply moving story of a boy's struggle to survive; and a frightening reflection of the anxieties of our times.
Bleak and beautiful debut novel… I found myself awake in the early morning hours reading about the trials of the characters in their merciless world… Carrasco's incredibly clean, crisp language (as translated by Margaret Jull Costa), and his precise, deliberate exclusions.

—New York Times Book Review
About Jesús Carrasco
Carrasco was born in Badajoz, Spain, and now lives in Edinburgh, Scotland. Out in the Open (Intemperie), his debut novel, was a huge bestseller in Spain, published in more than twenty-one countries, and is the winner of many international awards, including the European Union Prize for Literature 2016 and an English PEN award.
About Gabrielle Fuentes
Lucille Fuentes is Cuban-American who grew up in Wisconsin. She holds a BA from Brown University, an MFA from the University of Colorado, Boulder and is a PH.D. candidate at the University of Georgia. She is currently an Assistant Professor of Creative Writing at the University of Maryland. She is the author of the novel The Sleeping World (Touchstone-Simon & Schuster, 2016), and her short story "The Elephant's Foot" was a Distinguished Story in Best Aerican Short Stories 2016.
About Matthew Davis
Cheuse Center founding director Matthew Davis has long merged the worlds of creative writing and international relations. He has also been a beneficiary and proponent of cultural diplomacy and international exchange. He joined the Peace Corps in Mongolia after college, and his years as a volunteer in The Land of Blue Sky inspired his first book, When Things Get Dark: A Mongolian Winter's Tale, which won the 2010 Peace Corps Experience Award. Davis holds an MFA in nonfiction writing from the University of Iowa and an MA in International Relations from The Johns Hopkins School of Advanced International Studies. He's worked at The International Writing Program at the University of Iowa, been a Fulbright Fellow to Syria and Jordan and a Tom and Mary Gallagher Fellow at The Black Mountain Institute in Las Vegas.
After the event, you will have the chance to hear from the author directly and meet him during your personal book signing. View Dupont Underground's current visual arts exhibition and hear sounds complementing the presentation and motion arts presented by Solas Nua.