Objects of Desire: The Films of Luis Buñuel
This retrospective includes more than 20 of Buñuel's most accomplished films, both canonical screen classics and underappreciated rarities.
The singular vision of filmmaker Luis Buñuel (1900–1983) may have dictated a similarly one-of-a-kind career arc. Co-creator, along with fellow Spaniard Salvador Dalí, of the classic surrealistic films Un Chien Andalou (1929) and L'âge d'Or (1930), the scandalous reception that greeted both films earned Buñuel no commercial opportunities, the Catholic Church's opprobrium, exile from the ascendant fascism of 1930s Europe and more than a decade without making another feature film.
After a seven-year sojourn in the U.S. during the war years –among other jobs, he worked in the MoMA film department– Buñuel re-invented himself in Mexico City, where he started to make more commercial-minded films in the late 1940s.
Buñuel was awarded Best Director at Cannes in 1951 for Los Olvidados, a surprisingly harmonious alignment of the director's surrealist taste in image making with the more accessible Italian-style neo-realist drama then in vogue. Buñuel continued to make outstanding films in Mexico for the rest of the 1950s, even if most were too-little seen by the rest of the world, before another landmark success in 1961 with the Palme d'Or-winning Viridiana, his triumphant, controversial and slyly subversive return to Franco's Spain.
His genius now fully recognized and celebrated alongside the fellow iconoclasts of the New Wave of European filmmakers, Buñuel suddenly found both funding and audiences for his subsequent projects, both back in Mexico (The Exterminating Angel, 1962) and in Europe, where he worked steadily until the end of his career. Buñuel's later films explicitly engage with his obsessions, dreams and desires, dispensing with the pretense of realism that characterized the middle period of his long career, in a fitting return to the daring of his earliest, experimental Surrealist films.
Buñuel's films are always challenging, and often liberating; his characters suffer for their illusions but discover inspiration in their disillusionment; with the sacred consorting happily with the profane. Watch trailer.
---
Films
The Exterminating Angel (El Ángel Exterminador)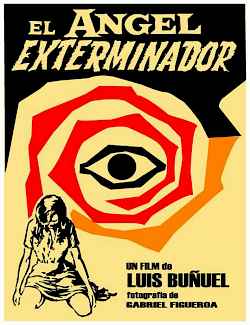 A high-society dinner party at a Mexico City mansion devolves into madness and depravity when the genteel guests discover that quite mysteriously, they are unable to leave. As the guests' polite chit chat gives way to paranoia, scandal-mongering and open warfare, Buñuel introduces evermore surreal imagery to the dreamlike scenario, with visits from a bear, sheep, and a severed hand crawling across the floor. Silvia Pinal and Claudio Brook head the ensemble cast, with cinematography by the great Gabriel Figueroa.
The Young One (La Joven)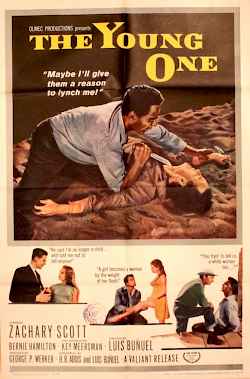 A grizzled gamekeeper (Zachary Scott) living on a sparsely populated South Carolina island takes on a fetching teenage girl (Key Meersman) as his ward. The arrival of a black jazz musician (Bernie Hamilton) from the mainland, on the run from a false accusation of rape, causes the gamekeeper's pent-up lust, violence and virulent racism to boil over. Made in Mexico from a screenplay by blacklisted American Hugo Butler, The Young One is a powerful yet un-preachy indictment of moral hypocrisy.
Él (Him aka This Strange Passion)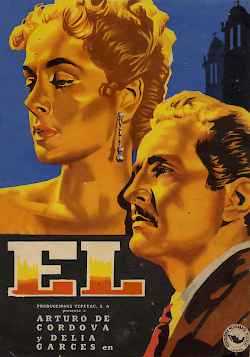 One of the highlights of Buñuel's Mexican period is this delirious portrait of obsessive male desire which follows a wealthy man's descent from love at first sight to blind paranoiac fear that his young wife cannot meet his ever escalating standards of ethics and purity. Reportedly famed psychoanalyst Jacques Lacan's favorite film, Él is overripe with unshackled Freudian symbols and oneiric energy. Arturo de Córdova gives one of the great and most memorable performances of Buñuel's entire cinema in his quaking portrait of a man gripped by the fear that his heart's darkest desires might one day actually come true.
The last Script: Remembering Luis Buñuel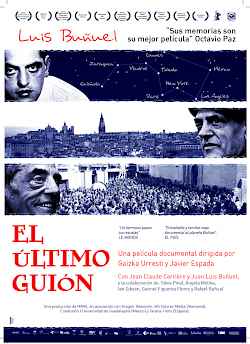 On Wednesday, November 2 at 6:45 pm. At the Former Residence of the Ambassadors of Spain, 2801 16th Street NW, Washington, D.C. 20009 (SPAIN arts & culture). Free, RSVP required.
Directed by Gaizka Urresti and Javier Espada, Spain, 2008, 90 minutes. In Spanish with English subtitles.
Designed as a loosely chronological visual scrapbook marking the 25th anniversary of the death of Luis Buñuel in Mexico City, The last Script of Luis Buñuel is also a relaxed chat between two men –Juan Luis Buñuel and Jean-Claude Carrière– both intimately connected with the life of Luis Buñuel and both distinguished artists in their own right.
Viridiana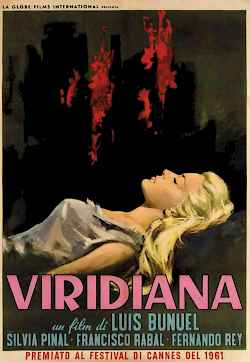 On Thursday, November 3 at 6:45 pm. At the Former Residence of the Ambassadors of Spain, 2801 16th Street NW, Washington, D.C. 20009 (SPAIN arts & culture). Free, RSVP required.
Film will be presented by Luis Buñuel expert Julián Gutiérrez-Albilla. Q&A after the screening
Directed by Luis Buñuel, Spain, 1961, 90 minutes. In Spanish with English subtitles.
Viridiana, a young nun about to take her final vows, pays a visit to her widowed uncle at the request of her Mother Superior.
Los Olvidados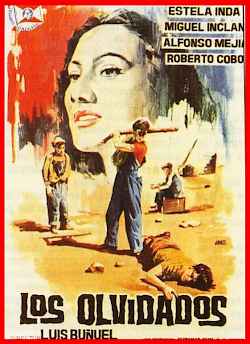 Buñuel won Best Director at Cannes for this story of slum children in Mexico City, inspired by Italian neorealism, with what he called "touches of surrealism." The cruel leader of a street gang and a younger boy complicit in murder who tries to go straight collide in a nightmare of poverty, sexuality, and violence.
The Brute (El Bruto)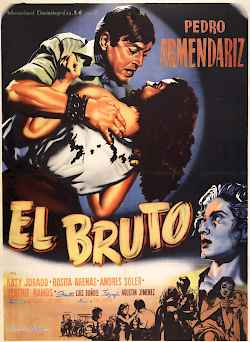 Slumlord Don Cabrera (Andrés Soler) hires Pedro, a simple-minded strongman nicknamed "El Bruto," (Pedro Armendáriz) to forcibly evict his troublemaking tenants. But El Bruto is sensitive to the plight of others, and his pangs of conscience, dawning class consciousness, and the mutual attraction he feels with his boss's lusty wife Paloma (Katy Jurado) lead him to rebel. Once again working with Luis Alcoriza, his co-scenarist on Los Olvidados, Buñuel examines class warfare, inequality and exploitation even more explicitly within this grotesque allegory.