Noche Iberoamericana 2014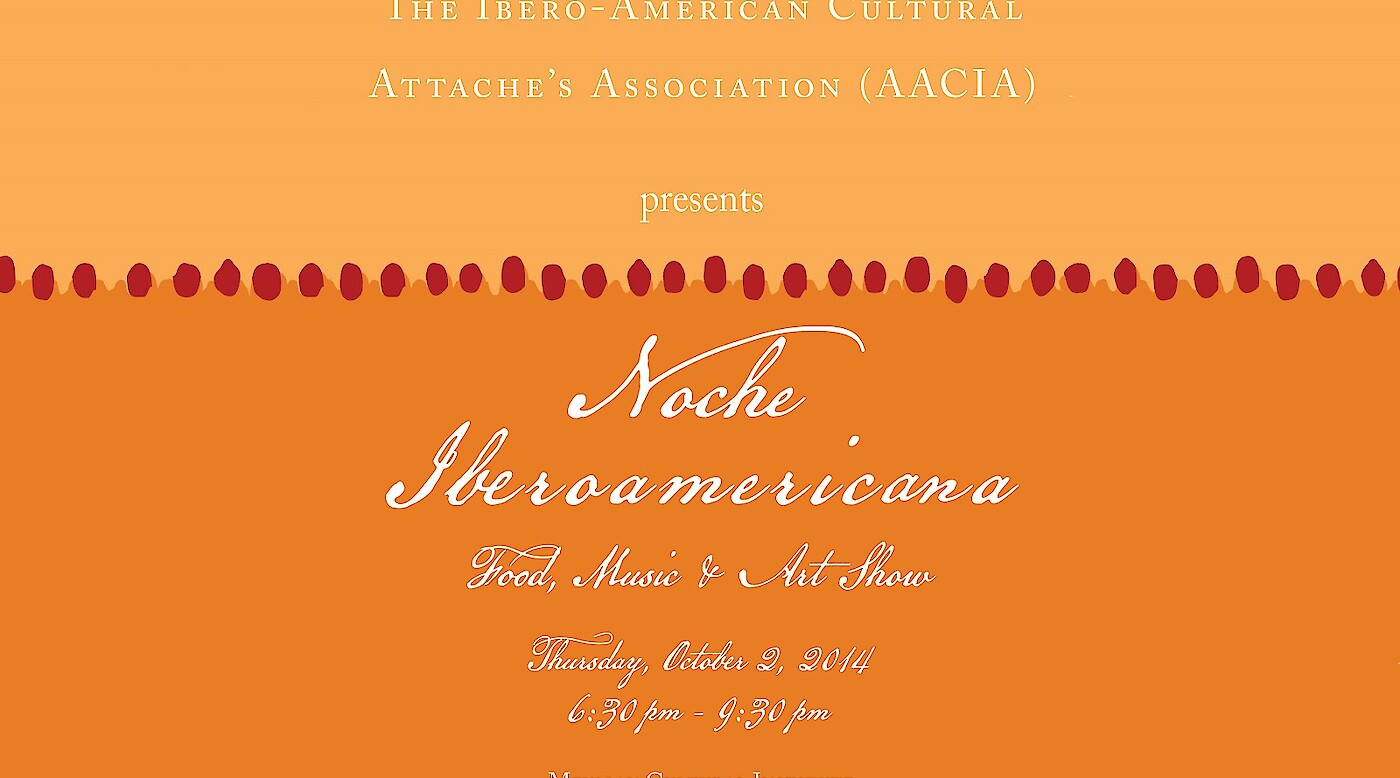 A night of Ibero-American food, music, and art show.
Noche Iberoamericana is an opportunity to explore the cultural diversity and flavors of nations that are part of IberoAmerica. This multicultural fiesta features Peruvian Ceviche, Spanish Tapas, Salvadorean Cuisine, Chilean and Argentinian Wine, Peruvian Pisco, Spanish Cava, Dominican Rum, and Honduran Beer. It also offers music by El Cuarteto del Amor from Uruguay, Grupo Etnia from Peru, and Brazilian guitar by Peter Richardson.
The Mexican Cultural institute's exhibit —Gabriel Figueroa Cinematographer Great Moments in Mexico's Golden Age of Cinema— will also be on display. The program includes a raffle of Cuban Cigars and Amalia's Guatemalan Kitchen Cookbook.
Participating Embassies: Argentina, Brazil, Chile, Colombia, Costa Rica, Cuba, Dominican Republic, Ecuador, El Salvador, Guatemala, Honduras, Mexico, Paraguay, Peru, Portugal, Spain, Uruguay, and Venezuela.
About AACIA
The Iberoamerican Cultural Attachés Association (AACIA) is a non-profit 501 (C) (3) association with the mission to promote, disseminate and preserve the heritage, culture and art of IberoAmerica in the Washington, D.C. area, working actively in building bridges between Latin America, Portugal and Spain, with the United States. This mission is achieved through cultural activities that bring together a varied audience and outreach media.
The cultural activities the Association has organized showcase the cultural values of IberoAmerica and the immense diversity that depicts the essence of our countries. In doing so, the events with most relevance have been the IberoAmerican Film Showcase in DC (various venues), the Annual Fundraiser Event, and the IberoAmerican Art Exhibition as a parallel exhibit of FotoweekDC.
View program (PDF). All ticket sales benefit the Ibero- American Cultural Attache's Association's (AACIA) cultural activities and are tax-deductible.