Casa Patas. Flamenco(s) de plomo y cobre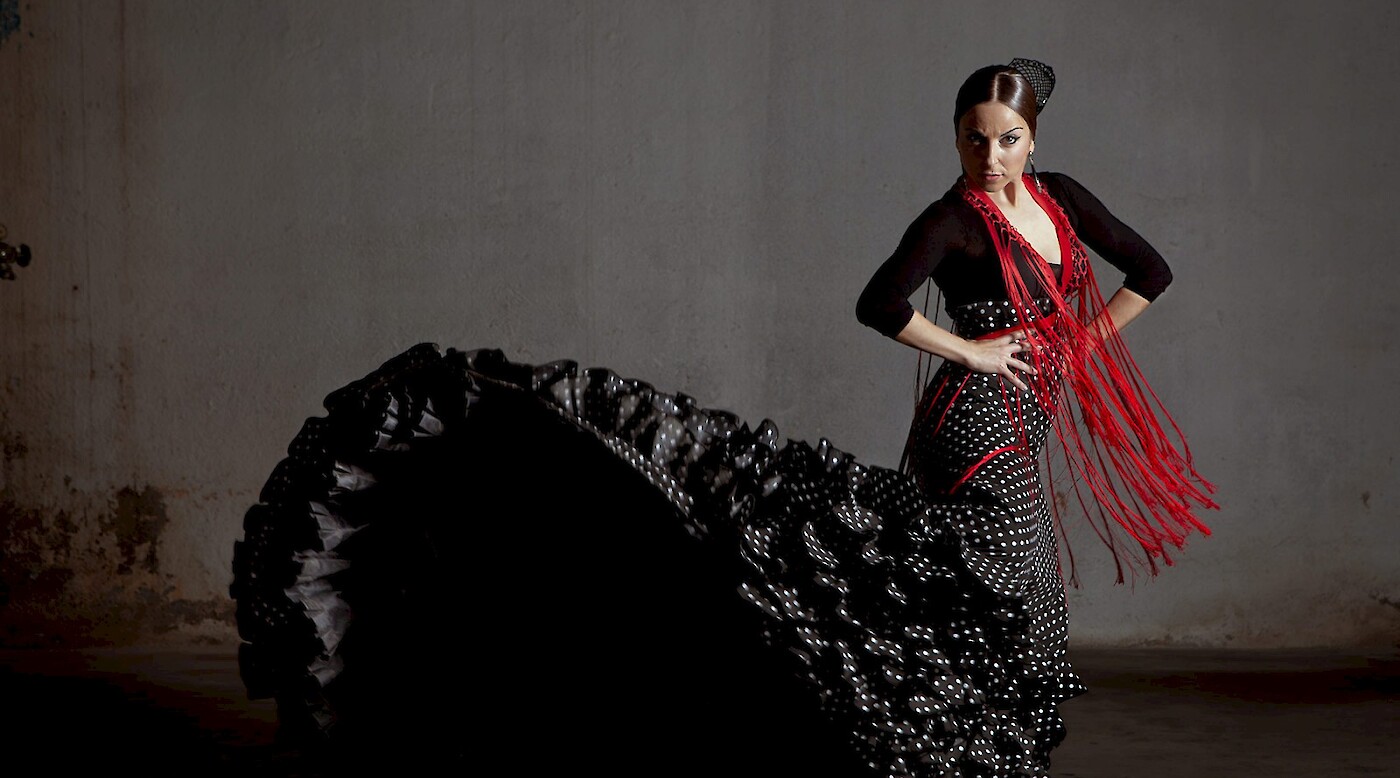 Dancers Mariana Collado and Carlos Chamorro submerge us in a world where flexibility of movement and malleability of rhythm mix.
Flamenco(s) de plomo y cobre, choreographed and performed by Mariana Collado and Carlos Chamorro, explores the power, intimacy, and immensity that is flamenco.
About Mariana Collado
Mariana Collado (Dancer, Choreographer, Director, Musical Director) began studying at age eight at the Real Conservatorio Profesional de Danza Española, where she concentrated on classical Spanish dance and flamenco. She also studied at the Centro Flamenco de Estudios Escénicos Mario Maya, where she studied with Mario Maya, Rafaela Carrasco, Belén Maya, Alejandro Granados and Yolanda Heredia. She became a member of the Compañía Flamenco Mario Maya and the Centro Andaluz de Danza, where she performed at the Bienal de Flamenco de Sevilla in Los caminos de Lorca. She was also a member of several other companies, including the companies of Antonío Gades, Rafael Aguilar, and Kaari Martin, among others, and was a soloist with the Karen Lugo Flamenco Company and Malucos Dance Company.
She has appeared at numerous festivals, including the Asilah International Cultural Festival, Festival De Encinart, and Veranos de la Villa. Ms. Collado also has performed at such renowned tablaos as Las Carbonera, Corral de la Morería, Café de Chinitas, Cardomal, Corral de la Pacheca and Casa Patas. She won Second Prize at the Concurso Internacional de Flamenco in Almería, Spain, and in 2012 won First Prize in Solo Choreography at the XXI Certamen Coreográfico de Danza Española y Flamenco in Madrid.
About Carlos Chamorro
Carlos Chamorro (Dancer, Choreographer) was a soloist and principal dancer for the Spanish National Ballet and is the founder of the Maluco Dance Company. He also has performed with the Kaari Marti Company of Finland and with Riha Hamada, known as the Ambassadress of Spanish Dance, in Japan.
He is the resident choreographer for Yllana Theater Company, and choreographed Dressed to Dance, which premiered at the Costume Museum in Madrid and was later presented in New York, Moscow and Jerusalem, and Fermata, which was presented at the Kulturhaus Festival in Austria. He also was choreographer for the Dos de mayo Gala and Europa Danza, and choreographed for and performed at the Tanzist Festival of Flamenco Art. Among his honors are the 2011 Most Outstanding Dancer Award and the 2008 First Prize for Solo Choreography of Córdoba.
About Casa Patas
Casa Patas is a world-renowned Madrid tablao, hosting some of the best and most authentic flamenco in Spain. Famous groups and new talent sometimes share the same stage to create memorable productions. The Fundación Conservatorio Flamenco Casa Patas grew out of this club and today sponsors workshops, seminars, and exhibitions promoting the art of flamenco around the world.
Showtimes
On Friday, November 21 at 8 pm.
On Saturday, November 22 at 2 pm and 8 pm.