Café Transatlántico: Andrés Jaque & Michael Wang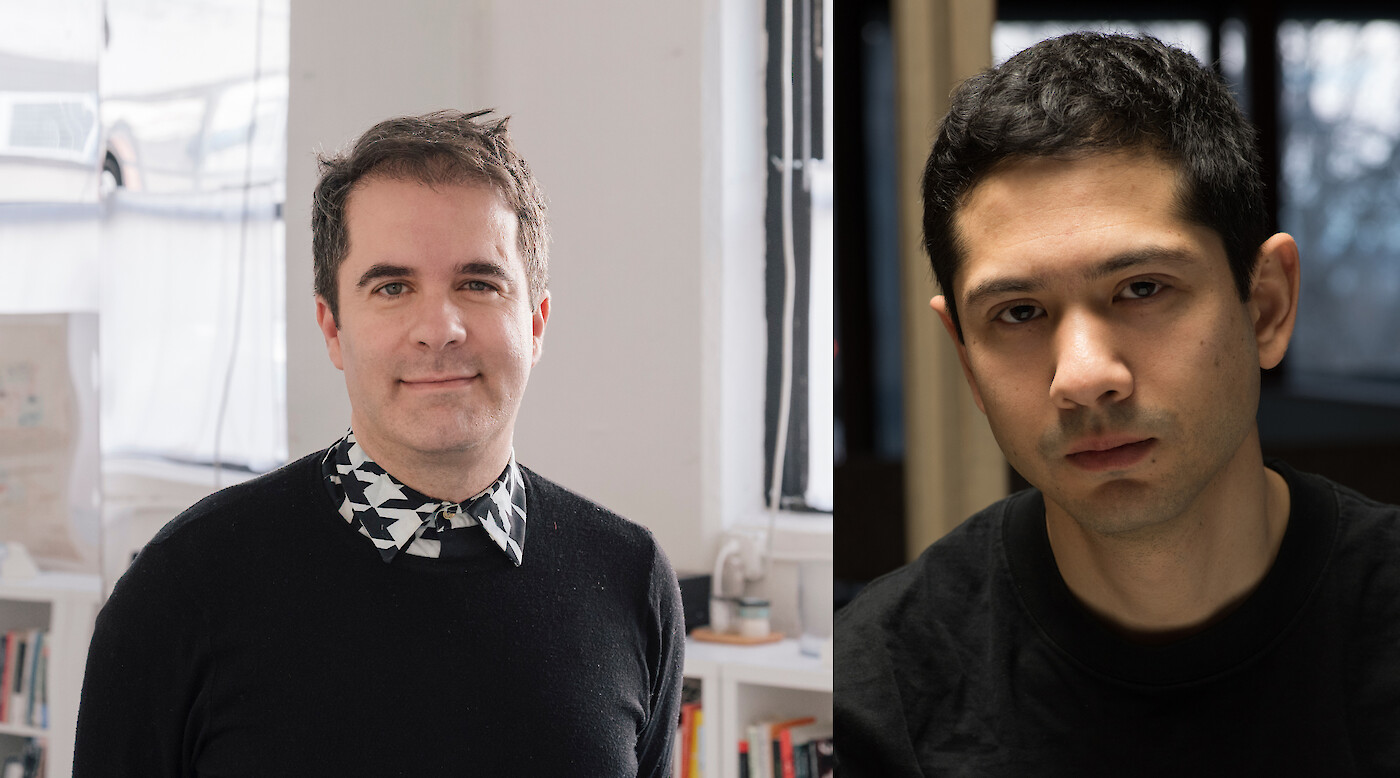 Spanish architect, writer, and curator Andrés Jaque meets U.S. artist Michael Wang in this new edition of "Cafés Transatlánticos," our coffee talks series to celebrate the cultural bridges that connect our two countries.
Andres Jaque and Michael Wang are two of the most challenging voices of the international context of architecture and art of our times. For years they have been discussing the way that human, and more-than-human life develops in systems of trans-corporeality and mutual interdependence established via specific forms of eco-technology policies. This discussion has been intensified through Michael Wang's participation in the 13th Shanghai Biennale –Bodies of Water– and Manifesta 12 in Palermo –The Planetary Garden– art events where Jaque has served as Chief Curator and Co-Curator respectively.
However, for the first time this dialogue will take place publicly, in an event that will explore the natural as the result of complex production contexts, post-human life and the interlocking of culture in the economic and environmental ecosystems that shape the challenges that the planet is currently experiencing.
Andrés Jaque
Andrés Jaque is an architect, writer, and curator. He is the founder of the Office for Political Innovation, a New York/Madrid-based agency working at the intersection of research, critical environmental practices, and design. In 2016 he received the 10th Frederick Kiesler Prize celebrating trajectories in the intersection of art and architecture. He was also awarded Silver Lion for Best Research Project at the 2014 Venice Architecture Biennale, as well as the Dionisio Hernández-Gil Prize. In 2018 he co-curated Manifesta 12 in Palermo, titled The Planetary Garden. Cultivating Coexistence, which inquired into the ecological, technological, and political role Palermo has played. He is the Chief Curator of the upcoming 13th Shanghai Biennale, titled Bodies of Water.
Jaque's work is part of the collection of MoMA, New York, and of the Art Institute of Chicago, among many other major museums around the world, and has been exhibited in international biennales, including those in Venice, Seoul, São Paulo, Oslo, Gwangju, Santiago de Chile, and Lisbon. He has also developed projects for cultural organizations including the Victoria and Albert Museum, London; MAK, Vienna; Het Nieuwe Instituut, Rotterdam; CA2M, Móstoles; Design Museum, London; MoMA PS1, New York; Tel Aviv Museum of Art, Tel Aviv; ZKM, Karlsruhe; Whitechapel Gallery, London; CalArts, Los Angeles; and TBA21.
Jaque is the Director of the Advanced Architectural Design Program at Columbia University. He previously taught at Princeton University, and has been a Heinrich Tessenow Stipendiat and a Graham Foundation Grantee. His publications include: Superpowers of Scale (2020), Transmaterial Politics (2017), Transmaterial / Calculable (2017), PHANTOM. Mies as Rendered Society (2013), Different Kinds of Water Pouring into a Swimming Pool (2013), and Everyday Politics (2011).
Michael Wang
Michael Wang (b. 1981) lives and works in New York. His practice uses systems that operate at a global scale as media for art, addressing climate change, species distribution, resource allocation and the global economy. Wang's work was the subject of solo exhibitions at LMCC's Arts Center at Governors Island, New York, US (curated by Swiss Institute, 2019) and at the Fondazione Prada, Milan, IT (2017), and was included in Manifesta 12 in Palermo, IT (2018) and the XX Bienal de Arquitectura y Urbanismo in Valparaíso, CL (2017). In 2017, he was a recipient of the Joan Mitchell Foundation Painters & Sculptors Grant.
The recorded conversation has been posted in the Cafés Transatlánticos digital project.