The Perils of Obedience by Itziar Barrio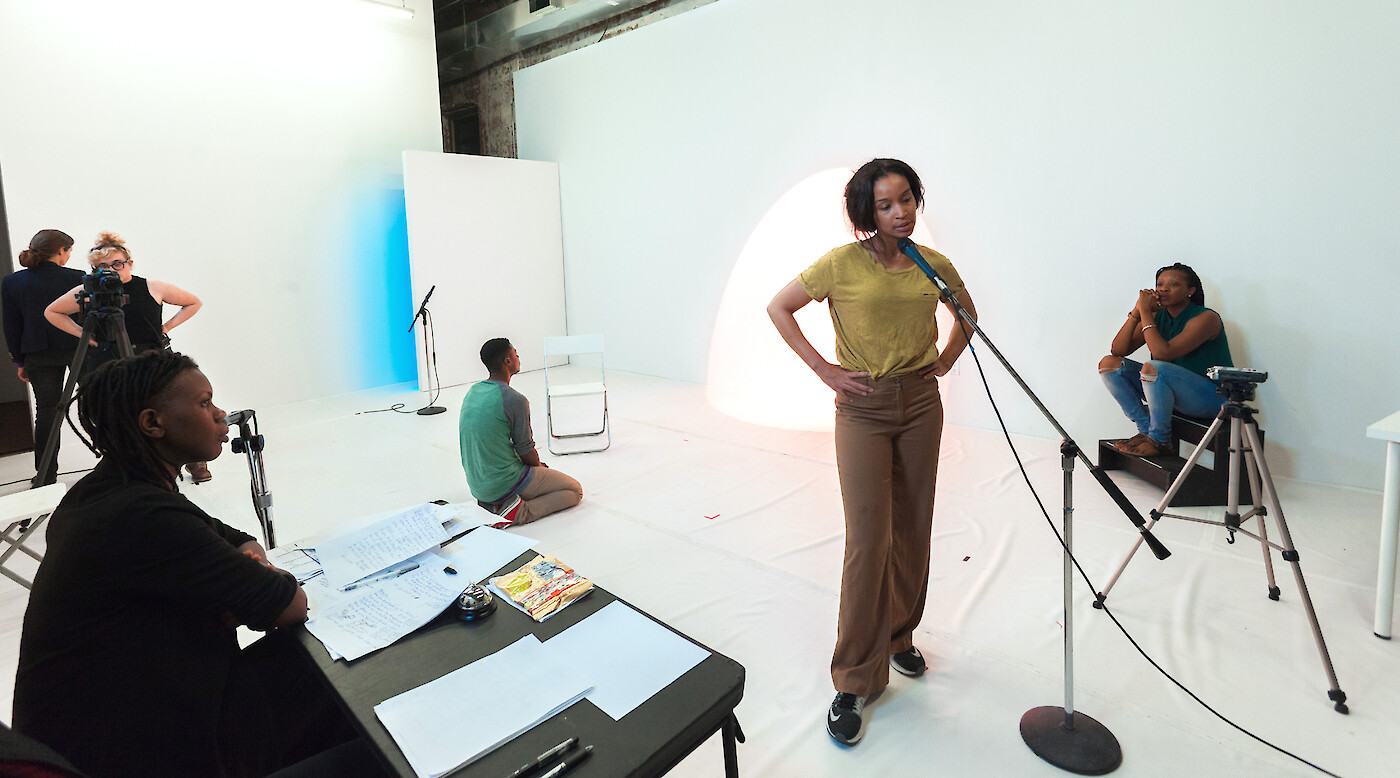 PARTICIPANT INC presents the concluding iteration of Itziar Barrio's twelve-year, multi-site project, "The Perils of Obedience."
The Perils of Obedience (TPO) merges different media to generate a movie in real time, participating in a larger debate about labor conditions and subjectivity. As a whole, the project seeks to query the limits of film, performance, sculpture, and installation by deploying dissent as a tool to rewrite dominant narratives and open future horizons.
Throughout the history of TPO, which has unfolded in Bilbao, New York City, Bogotá, and Rome, performers worked with directors to develop their characters. In each location, over time, this process was witnessed by audiences and recorded, to be edited later. As noted by art critic Ángela Molina, Barrio seeks to produce "an art of feeling, of bonds and symptoms that operate within a social order marked by class division and the imperative of capital."
About Itziar Barrio
Itziar Barrio is a multimedia artist based in New York City. By all means, her survey exhibition was curated by Johanna Burton, Director of The Museum of Contemporary Art (MOCA) in Los Angeles and former curator at the New Museum. Barrio is currently concluding her long term project The Perils of Obedience (2010-2020), which will premiere at Participant Inc in 2022.
Itziar Barrio's work has been presented internationally at Macro Museum (Rome), Participant Inc (New York City), Matadero Madrid, MACBA Museum (Barcelona), Belgrade's Contemporary Art Museum, Museo del Banco de la República (Bogotá), Abrons Arts Center (New York City), Anthology Films Archives (New York City), Salzburger Kunstverein, Espacio Odeón (Bogotá), Academy of Fine Arts in Gdansk (Poland), tranzit (Romania), European Network for Public Art Producers (ENPAP), ARTIUM Museum (VitoriaGasteiz), and at the Havana Biennial among others.
Barrio is a New Museum's incubator New Inc member (2020-2021) and she was a 2018-2019 recipient of the Spanish Academy in Rome Fellowship. She has received awards and grants by institutions including the Brooklyn Art Council, Ministry of Culture of Spain, NYC Department of Cultural Affairs, Foundation for Contemporary Arts, New York Foundation for the Arts and BBVA Foundation. She has been an artist in residence at the Skowhegan School of Painting and Sculpture, the International Studio & Curatorial Program (ISCP), La Escuelita Nicaragua and the Hudson Valley Center for Contemporary Art. She teaches at the School of Visual Arts and has lectured at NYU, Hunter College, MICA, Montclair University and the New School, among others.