A showcase of Spanish non-fiction films directed by women and a series of panel discussions and Q&A's with the guest filmmakers attending.
The aim of the symposium is to reflect upon the aesthetics, poetics and political parameters in which Spanish non-fiction productions are made today and the limits, frontiers and trademarks of the feminine gaze. Access to the American market is often complicated for independent productions, so the documentary films to be showcased will allow American audiences, curators, distributors and programmers to have access to the current non-fiction Spanish panorama. In addition, the guest filmmakers will have the opportunity to network with relevant professionals from the film industry in NYC establishing valuable connections develop an international film presence.
Guest Filmmakers
Mercedes Álvarez, Neus Ballús, Cecilia Barriga, Virginia García del Pino, Pilar Monsell, and Sandra Ruesga.
Curators
Ruth Somalo is a Spanish artist, filmmaker, curator and a PhD Candidate at Universidad Autónoma de Madrid. She is researching the expression of emotions in first person documentary and a member of the research group HIST-EX funded by the Spanish Ministry of Science and Innovation doing research in history and philosophy of emotions from a multidisciplinary and transversal approach. She is a programmer of the film festival DOC NYC and often collaborates with other international film festivals and documentary series like Stranger Than Fiction.
Lur Olaizola (San Sebastian, 1988) is a visual artist, editor and cultural manager living in NYC. She is the coordinator of the Architecture & Design Film Festival of NYC. She organized its fifth and sixth edition in NYC and the first one in LA in March 2014. She also co-curated and co-organized the last edition of Screen Loud Film Festival in the Anthology Film Archives. Currently, she is organizing its new edition.
Schedule
October 2: Paisajes / Landscapes
Program 1. 2:00 pm: The Jury + The Initiation (Virginia García del Pino and Sandra Ruesga) 80 min. screening + 25 min Q&A with Chi-Hui Yang.
Program 2. 5:00 pm: Africa 815 + Making Memory (Pilar Monsell & Sandra Ruesga). 76 min. screening + 25 min Q&A with Ruth Somalo.
Program 3. 7:30 pm. Three InstantsaShout + Five Elements for any Universe (Cecilia Barriga & Mercedes Álvarez). 96 min. screening + 25 min Q&A with Susana Draper (Princeton.)
October 3: Miradas / Glances
Program 4. 3-5 pm: Expert panel with the 6 directors, screening and speech.
Program 5 : 5 pm: The Plague + Im Fluss (Neus Ballus & Cecilia Barriga.) 87 min. screening + 25 min Q&A with Lur Olaizola.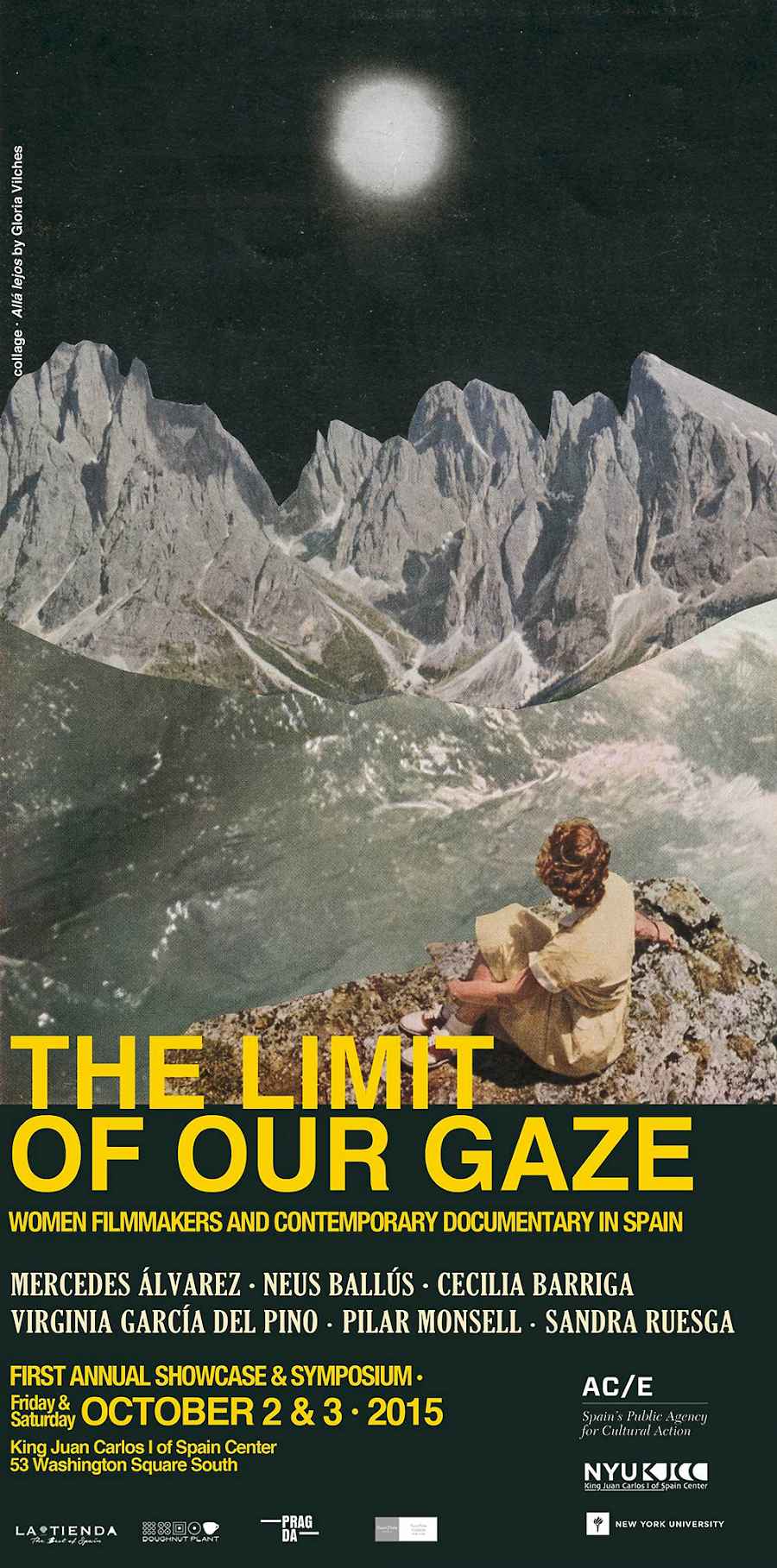 All films have English subtitles.