The King of All the World at the 2022 OLA Film Festival
The 19th annual OLA Latino Film Festival features the screening of the movie "The King of All the World" by the Spanish filmmaker Carlos Saura.
The King of All the World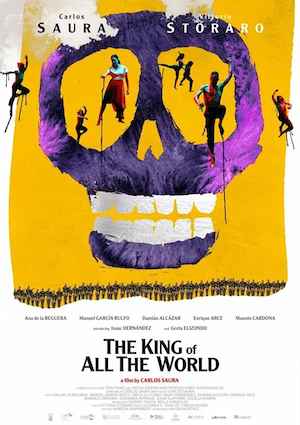 Reception and bilingual tour of Another Justice: US is Them at 6 pm. A complimentary reception will be held on the Terrace. Screening starts at 7 pm.
Directed by Carlos Saura, 2021, 95 minutes. Original title: El rey de todo el mundo.
World-renowned director Carlos Saura examines contemporary issues challenging Mexico through a visual feast of dance and drama set to traditional Mexican music. Tragedy, fiction, and reality intertwine as protagonist, Manuel, creates a musical about making a musical with the help of Sara, his ex-wife and renowned choreographer.
Like a few other great European auteurs who began working in the twentieth century, Spain's Carlos Saura has steadily worked on a film every year or two for decades. Much of his recent work has been devoted to documentaries centered on music and dance from Spain, Portugal, and Argentina (Fados; Flamenco, Flamenco), so it's not surprising that his first narrative film in almost 20 years is a musical about theatre and dance. In fact, The King of All the World is one long rehearsal, the making of a piece of music and dance told in a story about the process of creation and the highs and lows endured by its creators. Captured by cinematographer Vittorio Storaro (Apocalypse Now, The Last Emperor), some amazing, beautifully shot and lit scenes feature vibrant contemporary dance set to Mexican music by Lila Downs, Carlos Rivera, and Fela Dominguez.

—ScreenAnarchy
About OLA of Eastern Long Island
Founded in 2002, OLA of Eastern Long Island, Inc. (Organización Latino Americana) is a nonprofit Latino-focused advocacy organization working in the five East End towns of East Hampton, Southampton, Riverhead, Southold, and Shelter Island.