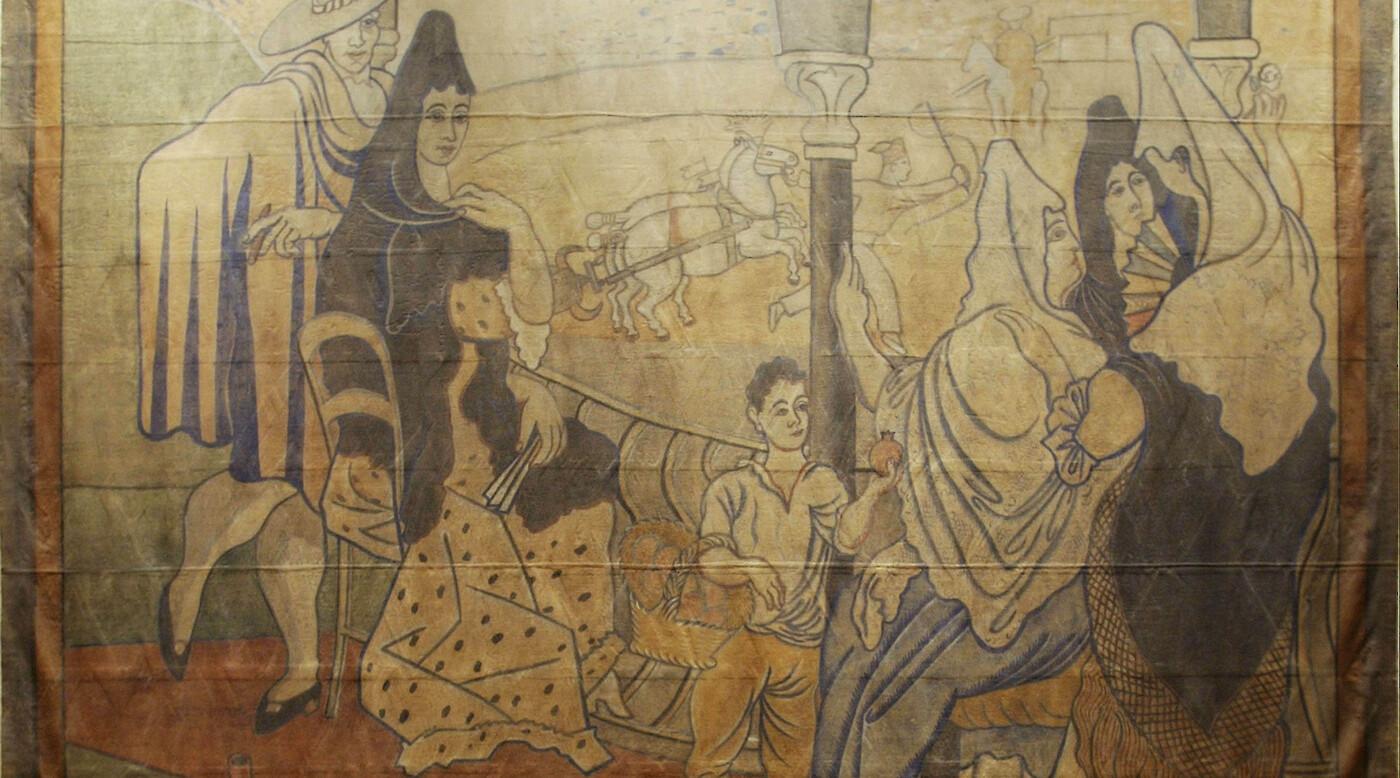 The New-York Historical Society will display its newly acquired and conserved Picasso.
Pablo Picasso painted the stage curtain for the two-act ballet The Three-Cornered Hat (El sombrero de tres picos or Le tricorne). The ballet and curtain were commissioned by the impresario Sergei Diaghilev for his avant-garde, Paris-based Ballets Russes, the most influential ballet company of the twentieth-century. The ballet was choreographed by Léonide Massine with music by the Spanish composer Manuel de Falla. It premiered on July 22, 1919, at the Alhambra Theatre in London with sets, costume designs, and the monumental stage curtain created by Picasso. Picasso biographer John Richardson once called Le Tricorne the artist's "supreme theatrical achievement." The production, which was conceived by Diaghilev and Massine during a trip to Spain, was enhanced by its many Spanish collaborators, including Picasso who also designed the costumes and set for the ballet.
Measuring roughly 20 feet square, the curtain depicts a scene with a bullring and celebratory spectators. Picasso painted it as an illusionistic window in a larger curtain that functioned as a backdrop setting the scene for the ballet. At some point before 1956 Diaghilev cut it from its larger context. For more than half a century the curtain, believed to be the largest Picasso painting in the world, has hung in the hallway of the Four Seasons Restaurant, in the landmarked Seagram Building, designed by Ludwig Mies van der Rohe, on Park Avenue and Fifty-second Street in New York City. Vivendi, the company that once owned the Seagram Building, gave the Picasso curtain to the New York Landmarks Conservancy in 2005 as a "Gift to the City."
The show will position Picasso's curtain in a dialogue with other N-YHS objects, including paintings from the European tradition that provide background to the artist's work as well as to the traditions against which the revolutionary artist rebelled. Other thematic threads pivot around dance subjects and explore roughly contemporary American paintings, sculpture, posters, and watercolors. Among the works included will be examples by William Adolphe Bouguereau, Will H. Bradley, Philippe de Champaigne, Jean-Léon Gérôme, Childe Hassam, Malvina Hoffman, Ricardo de Madrazo y Garreta, Elie Nadelman, Edward Penfield, Maurice Prendergast, John Sloan, and Adriaen van Utrecht.