Mare Nostrum. Finis Somnia Vestra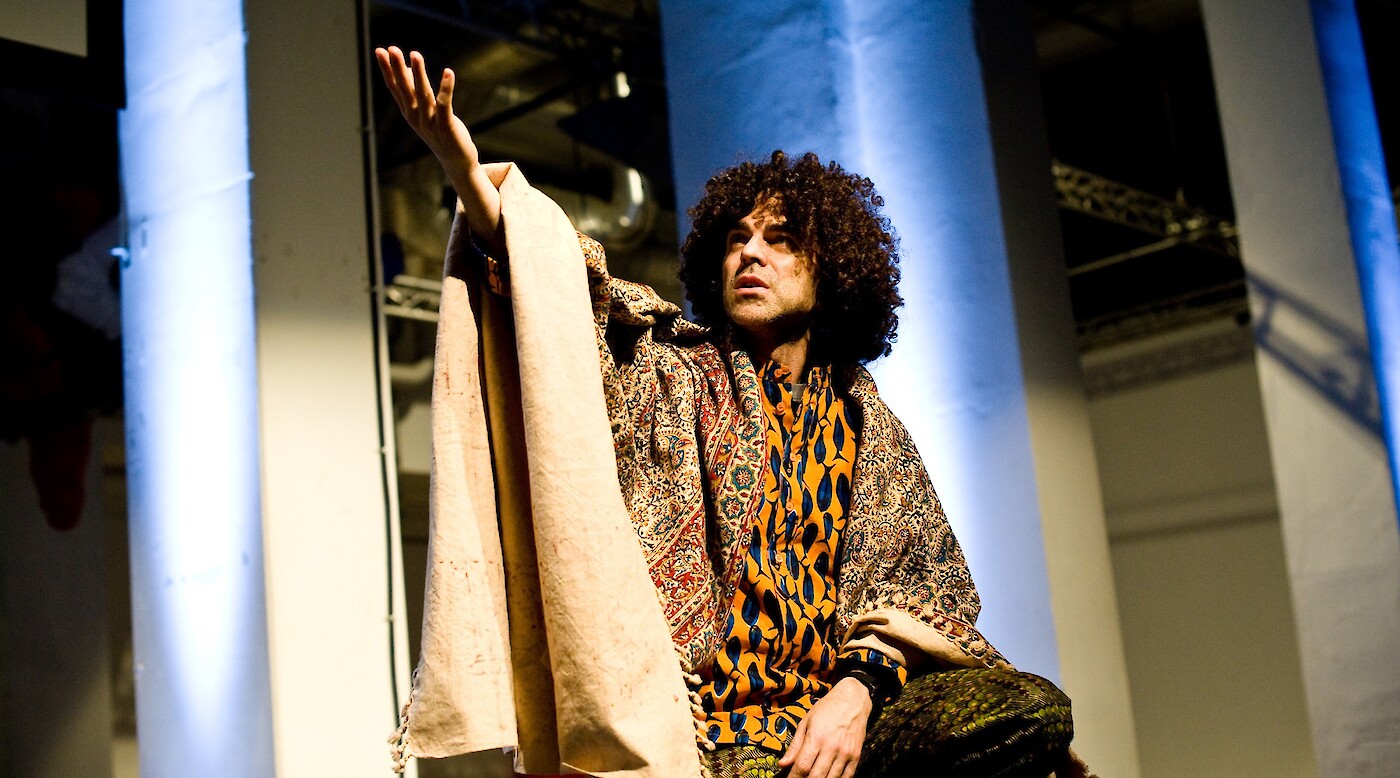 Mahmoud, a Syrian young man, takes a boat from Libya to the italian island of Lampedusa. When he wakes up, he can't understand what happened at sea… He tries to remember, and through his memories we will know his life in Syria, his family, his dreams, friends.
Since 2014, more than 6000 people have lost their life in the Mediterranean sea. Most of them come from Syria, running away from war, from ISIS, from death. Young people, families, kids, babies, floating, dead, drowned at sea… Where are their dreams now?
International theater artist and activist Marco Magoa has lived in Arab countries for many years and his play, Mare Nostrum. Finis Somnia Vestra (Our Sea. The End of Your Dreams) brings to life a young man seeking asylum in Europe and his desperate, three-day open sea journey from Libya to Italy.
Magoa has presented a theater trilogy on three different continents. On September 17, 2015, he performed El cielo y yo (The sky and I), the first part of the trilogy, at the Royal Cultural Center in Amman, Jordan. The second part, Nada (Nothing), was presented in Cairo, Egypt, on November 5 in a non-governmental theater after the government of Egypt cancelled the original performance at a national theater alleging political reasons. The third part, Mare Nostrum. Finis Somnia Vestra, is a monologue which premiered in Copenhagen, Denmark, on January 20, 2016. It has also been performed in Jordan, Tunis, Spain and now in the United States.
Marco Magoa is a playwright, actor and theater director born in Madrid, Spain, in 1972. He is the director of the theater company teatro4m. He studied the last year of high school in St. Louis, Missouri, and graduated as an actor in Spain. He has studied in the USA, Italy, Morocco, Syria, Egypt, and Spain. At the age of twenty five he was already playing a main role from the classical Spanish repertory from the 17th century. He has worked as a "Comical Tenor" at the Compañía Lírica Nacional in Spain, and has performed as an actor at Compañía Nacional de Teatro Clásico, Teatro Real, Teatro Español, La fura del`s Baus and Compañía Lope de Vega.
In 2007 founded his own theater company teatro4m, presenting 14 plays so far, in Spanish, English, Portuguese, Africans and Arabic in several countries around the world (Morocco, Denmark, Spain, Egypt, Jordan, Tunis and Namibia) with the participation of more than 80 artists from more than 11 different nationalities. He has written 5 plays and has given lectures at universities in Egypt, Tunis, Namibia and Spain.