Kirmen Uribe at European Literature Night 2021
Presenting some of the brightest literary talents from ten E.U. countries to New York audiences, including Spanish author Kirmen Uribe, this event celebrates the cultural diversity of Europe.
Czech Center New York hosts European Literature Night (ELN) on Monday, November 22. Returning to New York after a two-year break, the 2021 edition presents a selection of fiction, poetry, and short stories. Authors, translators, and actors representing ten E.U. countries will read from new releases and beloved classics and participate in a panel discussion.
ELN brings to New York the spirit of European café culture, a decade-old tradition in many European countries where readings and the exchange of ideas have often happened in communal spaces, such as pubs and coffee shops. Launched in New York in 2017, ELN's concept is based in the spirit of unity and the belief that literature is a unique and creative medium that can help strengthen the dialogue between individual voices and cultures and break down communication barriers.
The 2021 lineup represents a diverse and varied Europe with participants from Austria, Bulgaria, Czech Republic, Hungary, Italy, Poland, Portugal, Romania, Slovakia, and Spain. Participants and featured books include:
Edoardo Ballerini (Italy): Those Who from Afar Look Like Flies: An Anthology of Italian Poetry from Pasolini to the Present
Sean Gasper Bye (Poland): The King of Warsaw by Szczepan Twardoch
Véronique Firkusny and Elena Sokol (Czech Republic): City of Torment by Daniela Hodrová
Sándor Halmosi (Hungary): Decameron57, Everness80, The Dual Nature of Silence, Apocrypha, Meltdown
Alta Ifland (Romania): The Wife Who Wasn't
Stefan Kutzenberger (Austria): Jokerman
Alek Popov (Bulgaria): Mission Turan
Hugo dos Santos (Portugal): A Child in Ruins by José Luís Peixoto
Megan Tomas (Poland): The Career of Nicodemus Dyzma by Tadeusz Dołęga-Mostowicz
Katarina Vizina (Slovakia): The Bloody Sonnets by Pavol Országh Hviezdoslav
The evening will be moderated by Andrew Singer, Director and Editor in Chief of Trafika Europe, Europe's literary radio station.
About Kirmen Uribe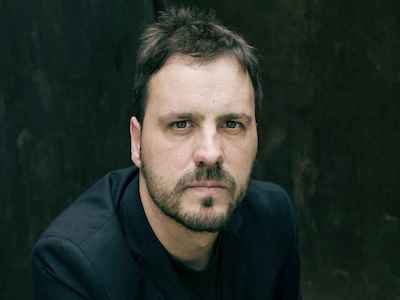 Representing Spain at ELN is Kirmen Uribe, one of the most relevant and writers of his generation in Spain. Uribe won Spain's National Prize for Literature for his first novel, Bilbao–New York–Bilbao.
His works have appeared in The New Yorker and The Paris Review, among many other journals. He was selected for the Iowa International Writers Program in 2017 and was awarded the New York Public Library Cullman Center Fellowship for 2018-2019. He is now based in New York City, where he teaches Creative Writing at New York University.