Garden for Drowning Descendant by Eva Davidova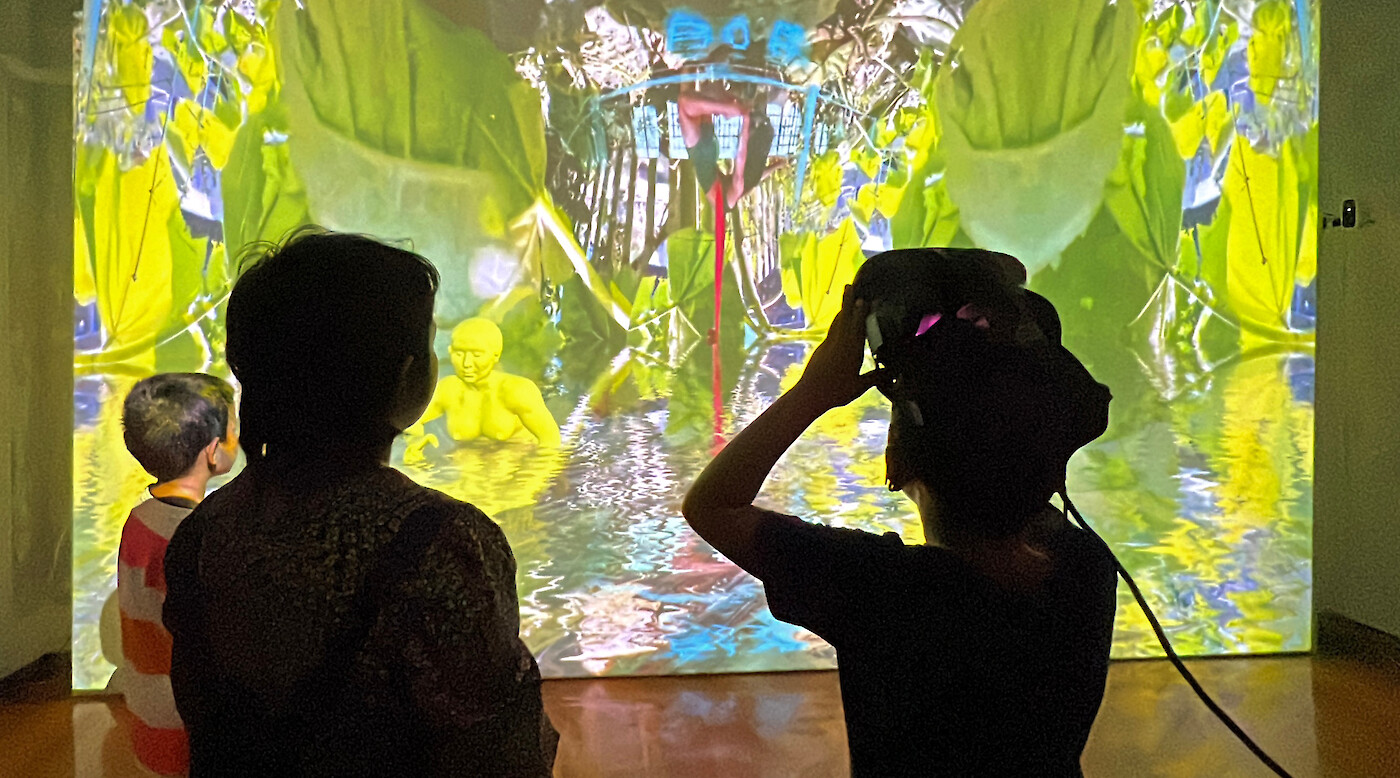 This new immersive installation and VR piece by Spanish artist Eva Davidova premieres at Harvestworks Art and Technology Program on Governors Island.
Garden for Drowning Descendant
Creative Technologist/ Interactions Designer: Sidney San Martín.
Sound: Bergsonist (Selwa Abd), Matthew D. Gantt, and Dafna Naphtali.
Performers: MX Oops, Catherine Kirk, Vinson Fraley, Danielle McPhatter.
Motion Capture files from Eve by choreographer Kristen McNally.
Team in Trinidad: Director/ performer/ costume designer: MX Oops; Camera: Arnaldo James; Location Scouting & Coordination: Jalaludin Khan; Team at green screen studio: RD Content.
The exhibition consists of four interactive absurdist scenes of ecological peril. Eva Davidova uses the VR space to invent multiple possibilities for the future, at once threatening and beautiful. Within the dizzying 360° spaces staged by Davidova, performers —humans, avatars, digital objects, and the audience— dance. In search of new movements, Davidova collaborates with performers who are given open-ended prompts which are later augmented with digital objects.
Garden for Drowning Descendent is part of Fluid, an exhibition of artists working with technology from recycled electronics to VR. Other artists in the exhibition include New York State Council on the Arts – New Technology awardee Kristin Lucas; Harvestworks Artists in Residence Viv Corringham, Su Hyun Nam, Allison Berkoy, and Angie Eng; and workshops by Harvestworks affiliated artist Melody Loveless.
About Eva Davidova
Eva Davidova is a multidisciplinary artist with focus on new media, information, and their socio-political implications. She has exhibited at the Bronx Museum, the Everson Museum, the Albright Knox Museum, MACBA Barcelona, CAAC Sevilla, Instituto Cervantes, La Regenta, ISSUE Project Room, and numerous private galleries in Europe and the US. She was a fellow of Residency Unlimited, and is currently of Harvestworks' TIP, and is currently a member of NEW INC, the New Museum incubator at the intersection of art, design and technology.