CreArt Music Festival 2018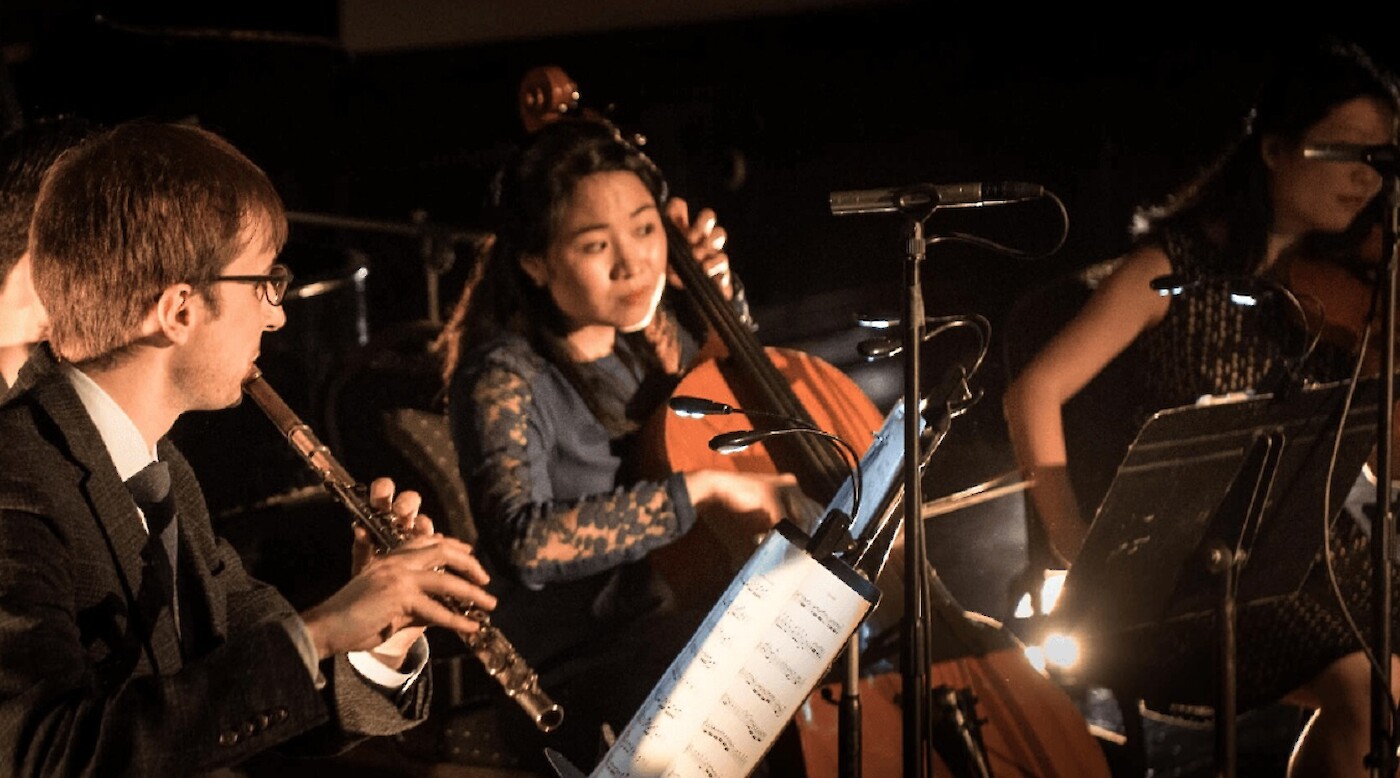 The festival, directed by Guillermo Laporta and Josefina Urraca, merges classical chamber music with contemporary dance, theater, and immersive sound, light and projection design.
CreArt Festival aims to present classical music to a wider, younger audience. Taking advantage of its ideal location in trendy LIC, this festival presents classical music in a modern way, incorporating other disciplines into the concerts. Utilizing video mapping projection and lighting design, all music is performed with theater, dance, and stunning visual installations.
Folk Culture
On August 31 at 8 pm.
Piano trio, violin, cello and piano.
Folk Culture will explore music written for violin, cello and piano, and popular tunes in classical music. The repertoire includes Beethoven's Kakadu variations op. 121a, Rachmaninoff's Trio Elegiaque number 1, Franck Martin's Trio on Irish Folk Tunes, and Dvorak's Dumky Trio.
Awave
On September 1 at 8 pm.
Flute, piano and electronics.
Guillermo Laporta's Awave blends years of opera, symphonic and chamber music performances with multimedia sound design and sound track composition. The performance presents a collection of pieces written for VR experiences, theatrical sound design and video games. It also features the world premiere of 10 new pieces for flute, piano and electronics.
Just as they are
On September 2 at 8 pm.
Flute, clarinet, violin, cello, piano and dancer
The third concert, titled Just As They Are presents the full core ensemble of CreArtBox (flute, clarinet, violin, cello and piano) with a full-scale set design and a unique visual approach. This is the grand finale of the CreArt Festival. Repertoire includes music by Anna Clyne, Joshua Penman, Johannes Brahms, Márcos Fernandez, Georg Philipp Telemann, and David Lang.
---
Active since 2013, CreArtBox's mission is to engage audiences by presenting high-quality performances of new music written by emerging and established living composers, as well as classical music from the 17th century onwards using innovative visuals and set designs.
Long Island City Artists, Inc. is a 501(c)3 non-profit arts advocacy organization founded in 1986 by artists in Long Island City. In October of 2016, Plaxall Inc., generously donated a 12,000 sq ft warehouse space to temporarily serve as a fine art gallery and performing arts venue with the intention of creating an exciting and vibrant fine arts community center. LiC-A presents monthly exhibitions, art classes, theatrical productions, dance and music performances and special events. LiC-A supports the community by providing space to the local PTA, Girl Scout troops, LaGuardia ESL classes, artists in need of work and performance space and much more.