Baroque Seville & Zurbarán
Amanda Wunder, author of "Baroque Seville," and Susan Galassi, Senior Curator at The Frick Collection, hold a conversation on Baroque Seville and Zurbarán.
Amanda Wunder, author of Baroque Seville: Sacred Art in a Century of Crisis (recently published by Penn State University Press) and Associate Professor at Lehman College and CUNY Graduate Center, and Susan Galassi, Senior Curator at The Frick Collection and coordinating curator for the exhibition Jacob and His Twelve Sons: Paintings from Auckland Castle, hold a conversation on Baroque Seville and Zurbarán.
Baroque Seville: Sacred Art in a Century of Crisis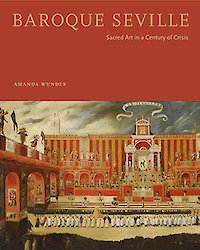 By Amanda Wunder.
2017, Penn State University Press.
Baroque art flourished in seventeenth-century Seville during a tumultuous period of economic decline, social conflict, and natural disasters. This volume explores the patronage that fueled this frenzy of religious artistic and architectural activity and the lasting effects it had on the city and its citizens.
Wunder investigates the great public projects of sacred artwork that were originally conceived as medios divinos —divine solutions to the problems that plagued Seville. These commissions included new polychromed wooden sculptures and richly embroidered clothing for venerable old images, gilded altarpieces and monumental paintings for church interiors, elaborate ephemeral decorations and festival books by which to remember them, and the gut renovation or rebuilding of major churches that had stood for hundreds of years. Meant to revive the city spiritually, these works also had a profound real-world impact. Participation in the production of sacred artworks elevated the social standing of the artists who made them and the devout benefactors who commissioned them, and encouraged laypeople to rally around pious causes. Using a diverse range of textual and visual sources, Wunder provides a compelling look at the complex visual world of seventeenth-century Seville and the artistic collaborations that involved all levels of society in the attempt at its revitalization.
About Susan Galassi
Susan Grace Galassi is Senior Curator at The Frick Collection. She received her Ph.D. in 1991 from the Institute of Fine Arts, New York University, and began her career at The Frick Collection that year as an assistant curator. At The Frick Collection, she has organized numerous exhibitions and smaller cabinet presentations, and overseen many traveling shows. She was co-curator with Jonathan Brown of El Greco: Themes and Variations (2001), Goya's Last Works (2006), and The Spanish Manner: Drawings from Ribera to Goya (2010-11). In 2003, she organized with Margaret MacDonald and Aileen Ribeiro the exhibition Whistler, Women, and Fashion.
A specialist in nineteenth- and twentieth-century art, she is the author of Picasso's Variations on the Masters, Confrontations with the Past (1996), and a contributor to numerous publications on the artist, including the exhibition catalogues Picasso: Challenging the Past (National Gallery, London, 2009) and Picasso et les Maîtres (Louvre and Musée Picasso, Paris, 2008), as well as the volume Picasso and the Spanish Tradition, edited by Jonathan Brown (1997).
In 2011, she and Marilyn McCully co-curated the exhibition Picasso's Drawings, 1890-1921: Reinventing Tradition. In 2012 she organized an installation around Van Gogh's Portrait of a Peasant: Patience Escalier from the Norton Simon Museum, Pasadena, and with Colin B. Bailey and Jay Clarke organized the exhibition The Impressionist Line: From Degas to Toulouse Lautrec (March 10 to June 16, 2013). She was the organizing curator for the Frick for Masterpieces from the Scottish National Gallery (November 5, 2014 to February 1, 2015), and in the summer of 2015, she curated an exhibition around Flaming June from the Museo de Arte de Ponce. She was co-curator of the 2017 exhibition Turner's Modern and Ancient Ports: Passages Through Time, and co-author of the accompanying catalogue. Her latest co-curation has been Zurbarán's Jacob and His Twelve Sons: Paintings from Auckland Castle.
About Amanda Wunder
Professor Amanda Wunder's research focuses on the art and culture of early modern Spain. She also is a professor in the History Department at Lehman College, CUNY, and has taught at the University of Wisconsin-Madison and the University of New Hampshire. She was a Fulbright scholar in Spain (1999-2000), and a senior fellow in the Department of European Sculpture and Decorative Arts at the Metropolitan Museum of Art (2005-2006). Her book, Baroque Seville: Sacred Art in a Century of Crisis (Penn State Press, 2017), was awarded a publication subvention by the College Art Association's Millard Meiss Publication Fund.
She is working on a new book, tentatively titled The Spanish Style: The Politics of Extreme Fashion in an Age of Empire, 1492-1700, which focuses on textiles, tailoring, and the meaning of clothes in Imperial Spain. Research for this project has been supported by PSC-CUNY research grants and a summer stipend from the National Endowment for the Humanities (2012).