Spanish New Orleans and the Caribbean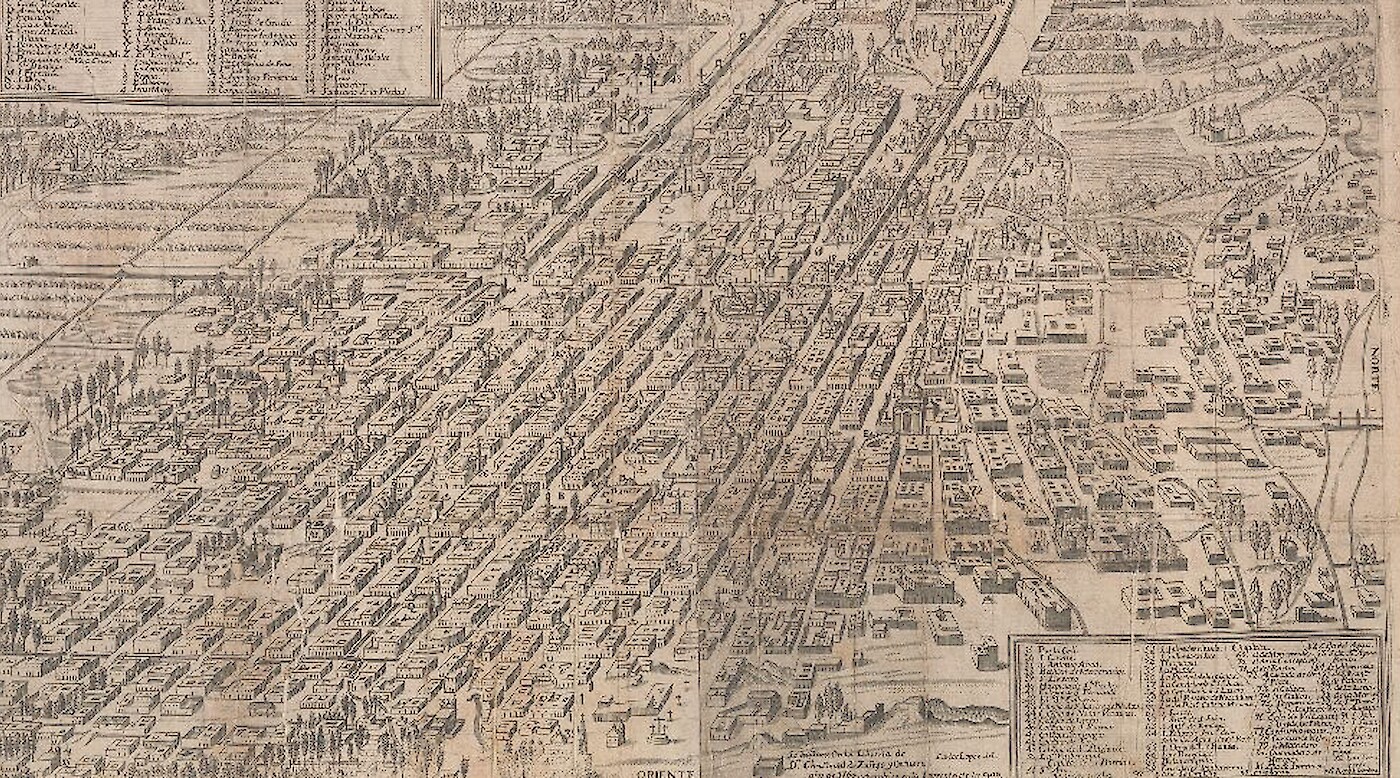 This bilingual exhibition brings together 125 rarely-seen items from the holdings of The Historic New Orleans Collection and institutions across Spain and the United States to shed light on the Spanish heritage of New Orleans.
New Orleans has long been identified –by locals, tourists, and historians alike– with its French heritage. This exhibition at The Historic New Orleans Collection restores balance to that assessment. During four decades under Spanish rule (1762–1803), the city experienced natural disasters, diplomatic tensions, and demographic transformation. Despite numerous challenges, Spanish New Orleans morphed from a poorly managed outpost on the edge of an empire to a highly urbanized colonial capital –one enriched by the racial and cultural diversity for which it is celebrated today.
Spanish governors like Antonio de Ulloa, Alejandro O'Reilly, Bernardo de Gálvez, and Esteban Miró implemented administrative reforms that established order and allowed for infrastructure building and economic growth. Under Spain, the city's population ballooned. New arrivals from other parts of the Spanish world and Caribbean –as well as Canada, Ireland, and England– joined Indigenous residents, earlier French colonists, and enslaved and free people of African descent.
This exhibition recounts the interconnected history of these groups, documenting their contributions to the establishment of Nueva Orleans as a diverse but decidedly Spanish city.
---
Related events
On Wednesday, October 19 at 7:30 pm. Free.
Pre-concert lecture at 5:45 pm at THNOC's Williams Research Center, 410 Chartres St, New Orleans, LA 70130.
This concert with the Louisiana Philharmonic Orchestra at St. Louis Cathedral in Jackson Square showcases the musical influence of the Caribbean in Louisiana.
Harpsichord recital featuring John Walthausen
On Wednesday, November 9 at 6 pm. Free.
At THNOC's Williams Research Center, 410 Chartres St, New Orleans, LA 70130.
Internationally acclaimed organ and harpsichord soloist John Walthausen travels to New Orleans to perform the period music of Louisiana's Spanish-colonial era. A resident of Philadelphia, Walthausen earned his bachelor's degree from Oberlin College before studying with Olivier Latry and Michel Bouvard at the Conservatoire National Supérieur de Paris. He then earned a master's degree in historical performance from the Schola Cantorum of Basel, Switzerland. In addition to his work in the US, Walthausen has performed in France, Italy, Germany, Switzerland and Japan.
Spanish New Orleans Community Day
On Saturday, November 12 at 10 am. Free.
At THNOC's Tricentennial Wing, 520 Royal Street, 520 Royal St, New Orleans, LA 70130.
Visitors of all ages are invited to experience Spanish New Orleans and the Caribbean at Community Day, which will feature live performances from Opera Creole, historic demonstrations, and hands-on activities. Registration is not required.
On Thursday, December 15 at 6 pm. Free.
At St Louis Cathedral, 615 Pere Antoine Alley, New Orleans, LA 70116.
Doors open 30 minutes prior to the performance's start time, and guests are admitted on a first-come, first-served basis.
Presented as part of the city's annual holiday chorale concert series, this free music performance will feature master guitarist and composer Mahmoud Chouki and the Krewe du Voix Chamber Choir led by Paul Weber.