Jose Luis de la Paz in concert in Miami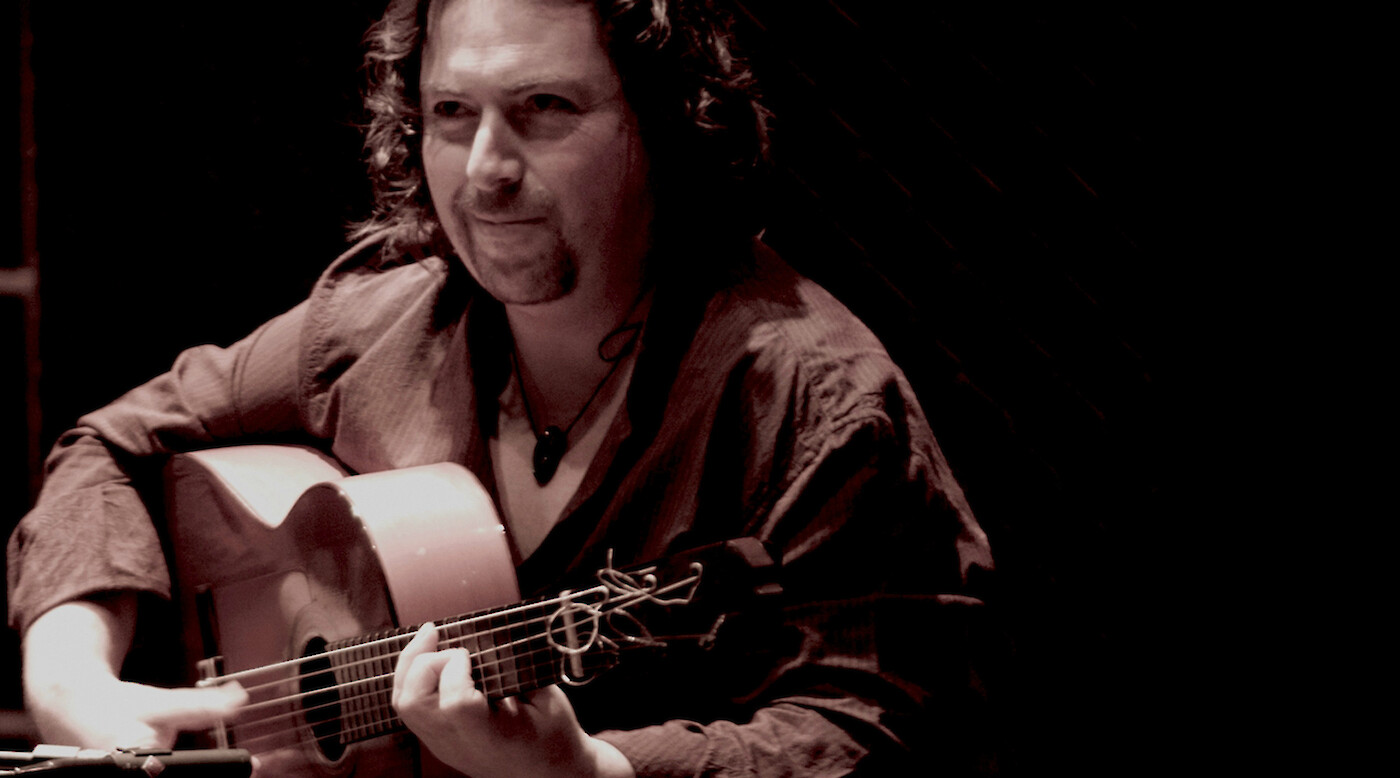 Spanish guitarist Jose Luis de la Paz performs during the opening night of the exhibit "All Science Transcending" by Cuban artist Raimundo de Travieso.
The opening night of All Science Transcending includes a concert by Jose Luis de la Paz (guitar), along with Susana Behar (voice), Adolfo Herrera (percussion), Niurca Márquez (choreography and dance), Kenneth Jiménez (double bass), Felipe Carvajal (second guitar), and Santiago & Eva Herrera (choir).
The exhibit presents tapestries and other art works by Raimundo Travieso commemorating 400 years since the publication of St. John of the Cross mystical poems, and will be on view until February 25th.
Jose Luis de la Paz
Jose Luis de la Paz, born in 1967, is an award-winning guitarist, recognized in all three Flamenco disciplines. He is a composer, virtuoso and performer whose original compositions range from the most traditional to the most experimental forms in Flamenco music. Following the oral traditions of the form, he became the prized pupil of the legendary Mario Escudero at the age of 15.
In 1995, he appeared in Felix Grande's book, Agenda Flamenca, as one of the best guitarists in Spain. He was the musical director for the Ballet Cristina Hoyos for ten years (the star of Carlos Saura's films) and has accompanied numerous famous Flamenco singers and dancers such as Carmen Linares, Jose Mercé, Arcángel, El Pele, Argentina, Manolo Marin, Pastora Galván, Isabel Bayón, Antonio Canales, Farruquito, Concha Buika and Belen Maya. Additionally, he recently collaborated with the LA Philharmonic and Maestro Gustavo Dudamel, under the artistic direction of Siudy Garrido Company in El Amor Brujo.
In 2015, Jose Luis debuted a piece of musical history at the Miami Dade Auditorium entitled Avalon: Suite for Flamenco Guitar and Orchestra, in collaboration with Alex Conde (arrangements/orchestration). This work is the first of its kind composed in the U.S. by Spanish artists with a national and international cast.
In 2016, he released his newly remastered CD, Escenas de Yerma, originally commissioned by Ballet Andaluz and Ballet Cristina Hoyos, and performed live throughout Europe and Japan. That same year, he was nominated for the U.S. Artist Fellowship.
De la Paz is currently working on the soundtrack for the movie Finding Compás by Kathy Douglas, and finishing a new CD of Sephardic music and flamenco guitar for singer Susana Behar.
Jose Luis is co-founder with Niurca Marquez (choreographer/dancer) of Nu Flamenco Collaborative, an organization that aims to introduce US audiences to the cultural heritage of flamenco and its emerging artistic expressions.