Director Chelo Alvarez-Stehle and main character Virginia Isaias present "Sands of Silence," a documentary that exposes stories of sexual exploitation and trafficking.
Michigan State University hosts the screening of the documentary Sands of Silence and a Q&A with award-winning journalist and filmmaker Chelo Alvarez-Stehle and documentary protagonist, sex-traficking survivor, and activist Virginia Isaias.
Sands of Silence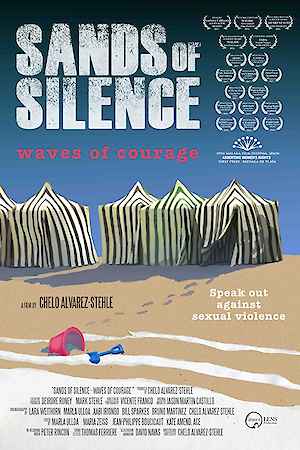 Directed by Chelo Alvarez-Stehle, USA / Spain, 2016, 86 minutes.
In English, Spanish and Nepali with English subtitles. Watch trailer.
Sands of Silence features a 15-­year quest to expose the underworld of sexual exploitation and trafficking from Asia to the Americas, which leads world­-reporter and filmmaker Chelo Alvarez­-Stehle back to the windswept beach where her childhood ended and family secrets began. As she documents the transformation of sex trafficking survivors, she meets Virginia Isaias, a Mexican woman whose life is engulfed in a cycle of sexual exploitation. Escaping with her six-month-old daughter from a sex trafficking ring in Mexico, Virginia crosses the U.S. border in search of freedom. After years of hard work, Virginia begins to rebuild her life and speaks out about her ordeal for the first time in this documentary. Virginia, who barely speaks English, becomes a U.S. citizen and a prominent advocate for other sexual exploitation survivors in the Latino community in Southern California by setting up a non-profit.
About Chelo Alvarez-Stehle
As a reporter and documentary filmmaker, she has worked for close to two decades exposing stories of sexual exploitation and trafficking. Born in Spain, she worked in Japan in documentaries for NHK and became Tokyo's and then Los Angeles' correspondent for Spain's El Mundo daily. Recently, she co-produced Through The Wall, a short documentary about a family divided by the U.S./Mexico border, which won the 2016 Imagen Awards. Her most recent journalistic work has appeared in The Guardian, The Huffington Post, and Documentary Magazine.