Mimosas
Screening of "Mimosas," winner of Critics' Week at the 2016 Cannes Film Festival, presented by Cinema Lamont in collaboration with Arab American National Museum.
Mimosas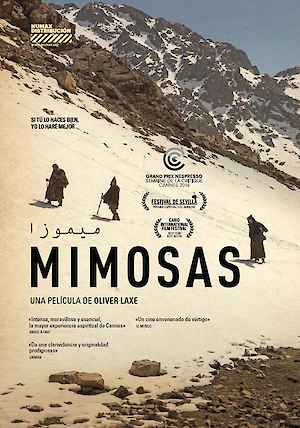 On Wednesday, August 9 at 7:30 pm. At Trinosophes, 1464 Gratiot Ave, Detroit, MI 48207
Directed by Oliver Laxe. Morocco, Spain, France, 2016, 93 minutes. In Arabic with English subtitles. View trailer.
A dying sheik has one final request, to be buried with his loved ones deep in the Moroccan Atlas Mountains. But death does not wait and the sheik dies en route, entrusting his body to Saïd and Ahmed, who must continue the journey through treacherous mountain terrain. Joined by the mysterious mystic Shakib, the caravan struggles to reach its final destination, undone by faith and an unforgiving landscape. Stunningly shot in 16mm, Oliver Laxe's spiritual, breathtaking Western won the Critics Week Grand Prize at the 2016 Cannes Film Festival.