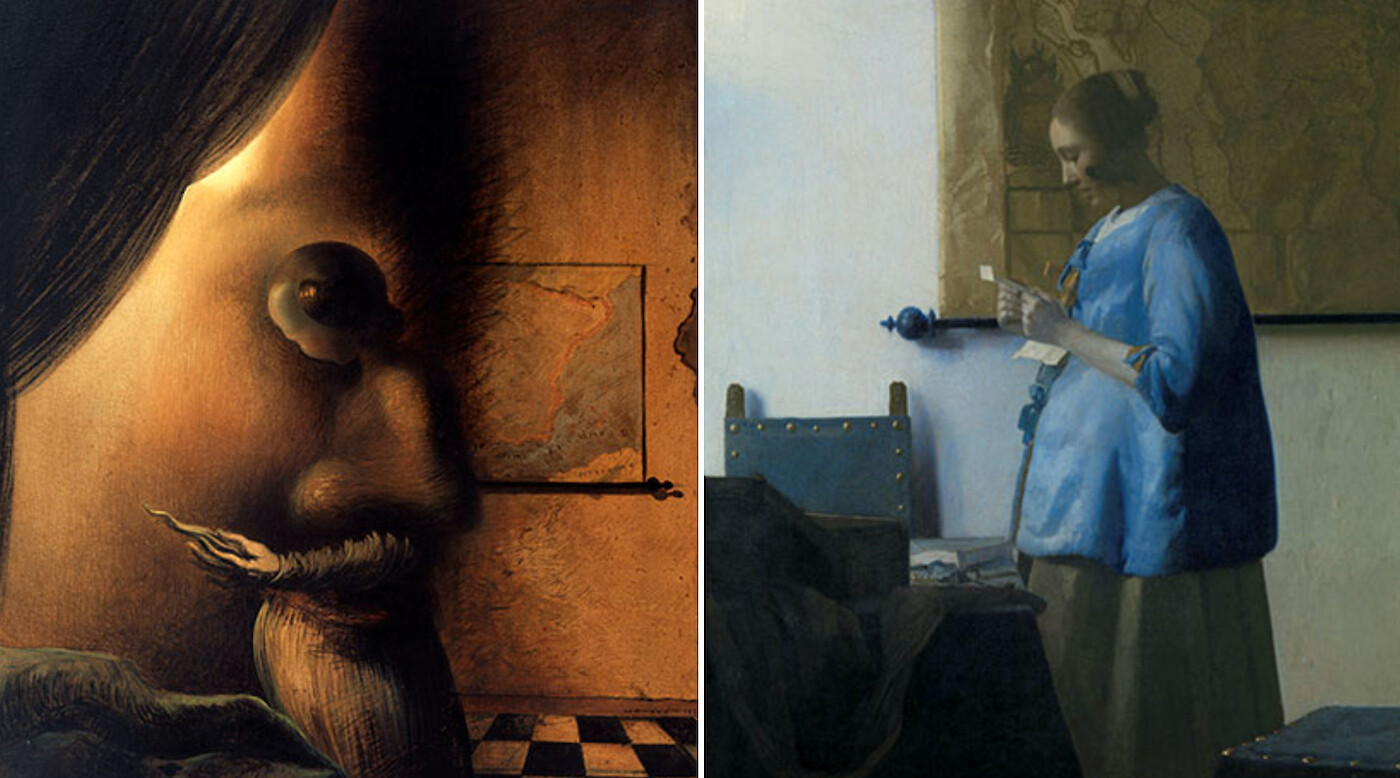 This exhibition unites for the first time Johannes Vermeer's "Woman in Blue Reading a Letter" (c. 1663) and Salvador Dalí's interpretation thereof, "The Image Disappears" (1938).
A key part of any artist's formal training has always been the study of their predecessors' works, the imitation of which is seen as a crucial step in the development of one's own style and technique. Dalí stands out as among the modern artists who most revered —indeed obsessed over— the painters that preceded him. The famed surrealist came of age just as earlier painters were being celebrated and publicized outside of their countries of origin, as was the case with the Dutch painter Johannes Vermeer (1632–1675), whose work he at first knew only through reproductions.
While a kind of Vermeerian iconography would come to pepper Dalí's compositions throughout his career, less common are the instances in which the Surrealist painter reinterpreted whole compositions by Vermeer. Among these is The Image Disappears, Dalí's interpretation of Vermeer's Woman in Blue Reading a Letter. In The Image Disappears, whose title describes what the image does rather than what it depicts, Dalí takes the basic forms and elements of Vermeer's composition —a woman wearing a blue night jacket, standing in profile reading a letter in front of an unseen window from which emanates soft light— and plays a visual trick on viewers, creating a second image of a mustachioed male face in profile that has been identified as that of Velázquez.
Not even Dalí would have seen these two paintings side-by-side; thus, the exhibition offers the unique opportunity to contemplate imitator and imitated within the context of the Meadows's collection of Spanish art. The Meadows welcomes visitors to not only enjoy this rare moment to see a Vermeer in Texas, but to contemplate the broader question of imitation: is it flattery or conceit? Additional works by Dalí from the Meadows's collection, including works on paper, will be featured elsewhere in the museum and round out this fall's celebration of the artist and his many evocations of art historical themes.