Piano Recital by Sylvia Torán in Chicago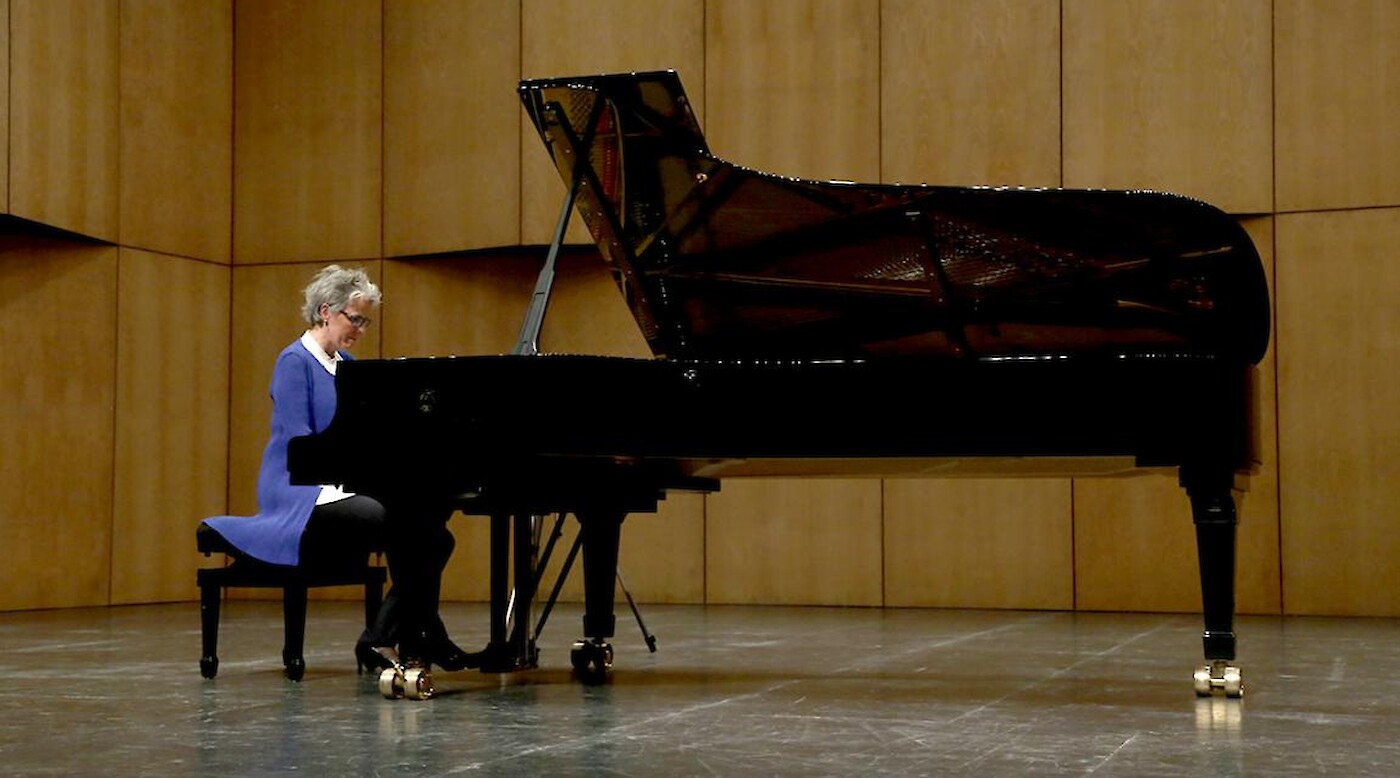 World-renowned Spanish pianist Sylvia Torán performs at PianoForte Studios in Chicago.
Program
Padre Antonio Soler, 3 Sonatas.
Johann Sebastian Bach, 2 Preludes and Fugues in C minor and C Major.
Frederyk Chopin, Nocturne Op. 9 No. 2 in E flat Major.
Frederyk Chopin, Ballade No. 1 Op. 23 in G minor.
Frederyk Chopin, Polonesa Fantasia Op. 61.
Isaac Albéniz, Evocación and Albaicín (From Iberia Suite).
About Sylvia Torán
Sylvia Torán was born in Madrid and began her musical studies at age 6 with Avelina Lopez Chiciheri. In 1974 she joined the Madrid Royal Consevatory at the Department of Joaquin Soriano finishing her studies in 1981 with Extraordinary Prize. In 1982 she was awarded a scholarship by the Fulbright Commission to study at the Juilliard School of Music in New York, where she obtained a "Master of Music" under the direction of Earl Wild. Later she extended her studies with Almudena Cano in Madrid and Halina Czerny-Stefanska in Krakow.
In 1985, she won the First Prize at the "Masterplyers" International Competition in Lugano, Switzerland. In 1987, she made her debut at Carnegie Hall in New York, earning laudatory reviews in the New York Times. In 1991, she received the Spanish Academy of Fine Arts Scholarship in Rome. In 2011, she was awarded the Music Prize of the Community of Madrid.
Torán has toured recitals and concerts with orchestras in Europe, the U.S., Latin America, the Middle East and Australia, in venues such as Carnegie Hall and Lincoln Center in New York, Chicago Orchestra Hall and Grant Park Festival in Chicago, Wigmore Hall in London, Salle Gaveau in Paris, Sydney Opera House.
Besides playing with most Spanish orchestras, she has also joined foreign formations, such as the Bulgarian Symphony Orchestra, Chicago Symphonietta, Symphony Masachusetts, Moscow Virtuosi, Orchestra of Lithuania, Philarmonia Kiev, Chamber Orchestra Lubliana, with conductors like Paul Freeman, Saulius Sondeckis, Josep Pons, Cristobal Soler, Juan Udaeta, Juanjo Mena, Cristobal Halffter, Pedro Halfftr, Garcia Navarro, Mihnea lgnat, Guillermo Garcia Calvo, Victor Pablo and Philippe Bender.
She has taken part in lbermusica Series, Chamber Season and Polyphony at the National Auditorium and Teatro Real in Madrid, Autumn Festival I, Summer Classics Festival, Festival of Sacred Art, Chicago's Grant Park Festival, etc.
In 2007, her performance of the complete serie of Beethoven concerts, organized by The National Heritage of Spain at the Monastery of El Escorial, was met with praise. In 2011, she toured the U.S. from Seattle to New York, with a triumphal return at Carnegie Recital Hall for Water Recital, titled in honor of Albeniz. Her homage to Chopin, Liszt and Montsalvatge have taken her to Slovenia, Austria, Ukraine and the United States of America.
With the British label ASV, Torán has published a CD devoted entirely to Chopin, and in 2015 another dedicated to her live concerts 2014, with the collaboration of pianist Ram on Grau. She has also recorded for Radio WFMT in Chicago, Los Angeles, National Radio of Spain, RTVE and for Polish Television.
She has taught master classes in Europe, Australia and the United States.