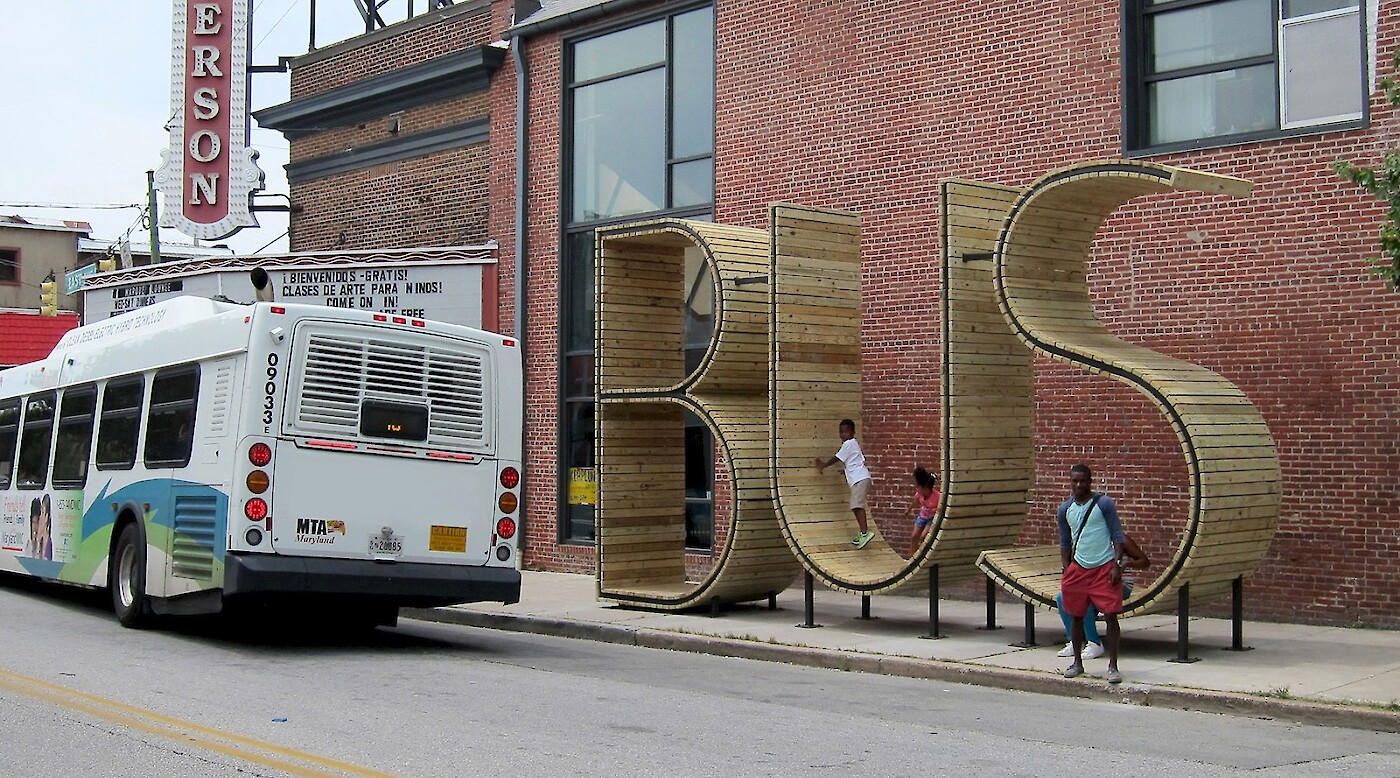 The Spanish artist collective mmmm… designs a permanent installation as part of the project TRANSIT.
As part of the project TRANSIT- Creative Placemaking with Europe in Baltimore, the Spanish artist collective mmmm… has created a fun and interactive bus shelter in S. East Avenue, Highlandtown A&E District, right next to the Creative Alliance.
This is a bus stop that you can't miss. It consists of three large sculptures that form the letters B U S. Each letter stands 14 feet tall and 7 feet wide and it's made with wood and steel. The artist collective mmmm… has created a place for the community to enjoy, interact, and meet while waiting for the bus. They have transformed the experience of waiting for the bus to an entertaining, leisurely space in the middle of the lively rhythm of Highlandtown.
About mmmm…
mmmm… is a collaboration between Emilio Alarcón, Alberto Alarcón, Ciro Márquez and Eva Salmerón, who have been creating projects for public spaces since 1998 in Madrid, Spain. They have arranged 100 couples kissing simultaneously throughout the crowds of the city center. Noise levels on the streets unexpectedly plummeted during that moment of mass intimacy. They have scattered members of an orchestra that played the same music simultaneously on various streets. Pedestrians experienced the music differently depending on which street they walked past, the speed at which they walked, and by which direction they were headed.
They have also built the Meeting Bowls in Times Square (New York), large objects shaped like bowls with seating to accommodate eight people. They constructed temporary and playful urban furniture, designed to promote interaction by having those seated inside face one another. The Meeting Bowls were social places for gathering and getting to know people.
About TRANSIT
TRANSIT – Creative Placemaking with Europe is an initiative of the Washington DC cluster of the EU National Institutes for Culture (EUNIC) and the Baltimore Office of Promotion and the Arts (BOPA), supported by a grant from the European Union. TRANSIT is supported by the British Council, Goethe-Institut, SPAIN arts & culture, the Embassies of Austria, Greece, Ireland, Finland and Poland.