'Guyi-Guyi:' Children puppetry theatre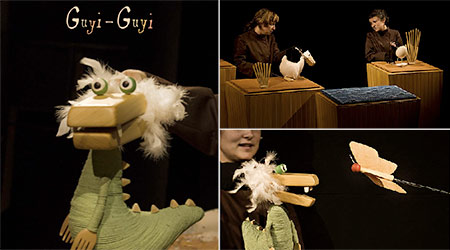 Perifera Teatro presents an exciting new take on a classic children's fairytale in New York City.
Guyi-Guyi is a crocodile born into a family of ducks by accident. He lives happily with them until one day he meets a crocodile. When he finds out that crocodiles eat ducks, Guyi-Guyi has to decide what his true nature is.
Guyi-Guyi is a free adaptation of the story of Ugly Duckling. Through play and humor, the play reflects on prejudice and the fear of difference. For children ages 3 and up. The show lasts 50 minutes.
Performances:
October 13-16 at10:30 am and 2 pm (Sunday) at Marjorie S. Deane Little Theater at the West Side YMCA, 5 W 63rd St. Buy tickets.
October 21 at 2 pm at the Long Island Children Museum, 11 Davis Avenue Garden City. Tickets: $4 with museum admission ($3 LICM members), $10 for theater only.
October 20 at 1 pm and 2:15 pm at Flushing Town Hall, 137-35 Northen Blvd, Flushing, New York.Buy tickets.
October 27 at 11 am and 2 pm at Hudson Opera House, 327 Warren Street. Buy tickets.
Kids
New York
Oct 13, 2012 – Oct 27, 2012
Venue
Various venues
More information