'Guyi-Guyi' & 'Ivan's Dream' at Kids Euro Festival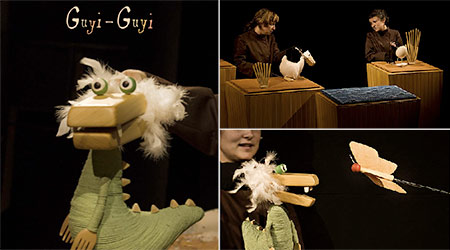 Perifera Teatro presents an exciting new take on a classic children's fairytale at Kids Euro Festival 2012.
Guyi-Guyi and Ivan's Dream are part of Kids Euro Festival, the largest performing arts festival of its kind in the United States.
Guyi-Guyi

Puppet-theatre. Age: 3-8 years. Duration: 50 minutes.
Synopsis: What if you couldn't see yourself the way others see you? Guyi-guyi is a crocodile born into a family of ducks by accident. He lives happily with them until one day he meets a crocodile. When he finds out that crocodiles eat ducks, Guyi-Guyi has to decide what his true nature is.
Performances:

On October 29th at 1 pm at Artisphere. Public performance. Free. Online reservation required.
On October 30th at 6 pm at Kennedy Center Millennium Stage. Public Performance. No reservation.
On November 1st at 10:30 am at La Maison Française. For schools. Call 202-944-6558 for reservations.

School performances will be accompanied by a workshop. Students will be able to meet the puppets from the show, learn about the art of Bunraku and shadow, and see the materials used to make the puppets. Students will then create their own simple puppets and improvise their own story.
Ivan's Dream

Comedy, Family. Spain, 2011, 90 minutes. Age: 7+. In Spanish with English subtitles.
Synopsis: For the first time in the history of the sport, a world-class roster of soccer stars will play against a world- class roster of… kids! Ivan, an eleven-year-old boy selected to play in the game, will also try to win Paula's heart —and this match is going to be much more difficult than the one on the field!
Showtime: On October 27th at 11 am at AFI Silver Theatre and Cultural Center.
Kids
Washington, D.C.
Oct 29, 2012 – Nov 1, 2012
Venue
Various venues
More information
Credits
Organized by the French-American Cultural Foundation in collaboration with 16 cultural institutions of the Washington, D.C. area.