'Basque icons worldwide: From Guernika until now'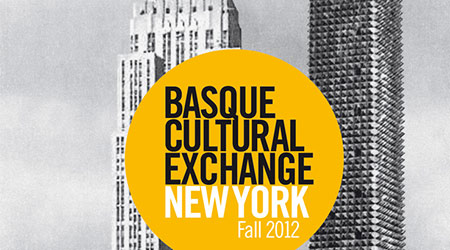 A round table discussion about the present internationalization of Basque Culture with the participation of Mikel Urmeneta, Luis Rebordin, and Mikel Lezamiz.
The three participants represent the cutting edge of three different models of worldwide diffusion.
Mikel Urmeneta stands for creativity linked to a brand, Kukuxumusu, already recognizable all over the world. José Luis Rebordinos is Director of the International Film Festival, that has put a small city like Donostia-San Sebastián at the epicenter of international film industry. Mikel Lezamiz represents the Mondragón Cooperative Corporation, a leading global company in the cooperative movement and an excellent example for the European culture industries.The discussion will be moderated Javier Rioyo.
This event is part of the Basque Cultural Exchange New York – Fall 2012, a program of cultural events organized by the Etxepare Basque Institute.
Sketching the future
New York
Oct 11, 2012
06:00 pm
Venue
Phone
212-308-77-20
More information
Credits
Organized and funded by Etxepare Basque Institute, with the collaboration of Basque Film Archive, the Basque Government Delegation in New York, CUNY, NYU, the Instituto Cervantes New York, Anthology Film Archives, Spain Culture New York, ICAA, Euskadi 2012, and the Basque Government.