Summer Camp at CCEMiami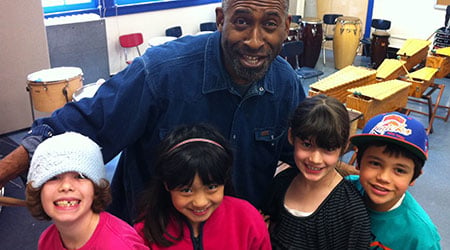 Bruce Mack's creative music summer workshops for children ages 7 to 11.
This summer camp is a creative music workshop for young people with an emphasis on creativity. It is an 8-10 day intensive exploration of rhythm and original ideas for kids ages 7 to 11.
Children will learn how to develop their own music ideas by experimenting with rhythm using percussion instruments, improvising with their voices, participating in the composition of a song and playing in an ensemble such instruments as marimba, percussion, keyboards, and drum set.
The workshops aim to provide children with an alternative summer activity via an opportunity to get "inside music" to enhance or ignite their creative development.
Session 1: July 9-20. Session 2: July 30–August 10. Schedule: Monday to Friday from 9 am to 2 pm.
Kids
Miami
Jul 9, 2012 – Aug 10, 2012
Venue
Centro Cultural Español Miami (CCEMiami), 1490 Biscayne Blvd, Miami, FL 33132
View on Google Maps
Phone
305-448-9677
More information