'Las aventuras de Don Quijote de La Mancha'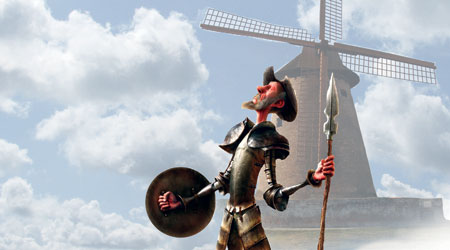 The comical and fantastical adventures of the Spanish knight who has seized the world's imagination for centuries.
GALita, a program for the entire family, is proud to present the world premiere of Las aventuras de Don Quijote de La Mancha by Argentine Patricia Suárez, with a bilingual adaptation by Cornelia Cody.
Commissioned by GALA and directed by Hugo Medrano, GALA's co-founder and Producing Artistic Director, Las aventuras de Don Quijote de La Mancha will be presented on select dates from February 22 through March 1, 2012 at GALA Theatre.
Based on Don Quijote de La Mancha, considered the first modern novel and a classic of Western literature by Miguel de Cervantes Saavedra, this bilingual adaptation follows the misadventures of the gentleman from La Mancha and his loyal squire Sancho Panza. Obsessed with chivalrous ideals, Don Quijote takes up his lance and sword to set wrongs to right, defend the helpless, and destroy the wicked throughout the Spanish countryside as he battles windmills and is ensnared in other episodes of mistaken identities. With music and great delight, we enter the world of dreams and fantasies with and through Don Quijote, as he escapes the world of reality and disappointment.
Ticket: $10. Student matinees: February 22-23, February 27-29 and March 1 at 10:30 am. A special performance for the general public will take place on Saturday, February 25, 2012 at 3 pm. The duration of the show is approximately 70 minutes and the content is appropriate for the entire family, but in particular for ages 7 through 12.
Kids
Washington, D.C.
Feb 21, 2012 – Mar 1, 2012
Venue
Phone
202-234-7174
More information