International Symposium: 'The Emerging Economic Value of Spanish in the U.S.'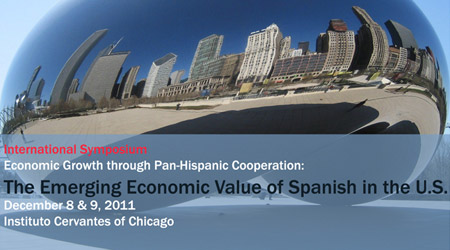 Economic Growth through Pan-Hispanic Cooperation. How should the United States capitalize on the rising value of Spanish domestically and internationally?
This symposium will offer a forum for discussion about the demographic change that the United States is experiencing due to the unprecedented growth of the Hispanic population. The opportunity for greater cooperation and commerce is driven in part by the dramatic growth of the use of the Spanish language in the United States, to the point where there are now approximately 36 million people in the country who speak it. Spanish is the second language of international communication in the world. Right now, 1 in 6 residents of the United States is Hispanic; 1 in 5 public school students is Hispanic and 1 in 4 children born in the United States is Hispanic. By 2025, over half of American families will be multicultural. By 2050, the United States will be the largest Spanish speaking country in the world. According to estimates made by the U.S. Census Bureau 132.8 million inhabitants will be Hispanic by 2050, almost three times the current 46.7 million, which means nearly one in three Americans citizens will be Hispanic.
A new corporate paradigm will have to evolve to address this emerging consumer mosaic and help keep the United States on the crest of this wave of demographic change.
The Spanish language will be a natural component of the new framework, and the ability to speak Spanish in addition to English will increase in value (in schools, media, scientific research, business, politics and diplomacy.) How should the United States capitalize on the rising value of Spanish domestically and internationally?
How should the U.S. address Spanish in the school system?
How are corporations facing this radical multicultural change in the U.S.?
How to best manage the impact and growing influence the U.S. Hispanic population has on society, the economy and politics in the U.S.?
This symposium aims to open a national and international dialogue to generate ideas for leveraging these opportunities. The symposium will be conducted in English and Spanish with simultaneous translation. Organized by: Instituto Cervantes of Chicago, the Chicago Council on Global Affairs, Asociación Líderes Hispanos, St. Augustine College, Fundación Carolina, Ministerio de Asuntos Exteriores y de cooperación, SpainUSAfoundation and fundación Consejo España-EEUU.
Sketching the future
Chicago
Dec 8, 2011 – Dec 9, 2011
Venue
Phone
312-335-1996
More information