Bambalina - Puppet Theatre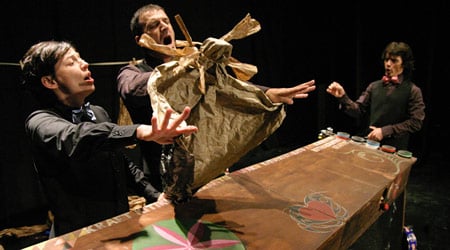 Bambalina presents: 'The things you never thought could be done… with paper!'
Never before has recycling been so imaginative, playful and eye-opening. Enter a world where an everyday object's conventional use is transformed into something magical. Kraft paper becomes an instrument of nature, creating the sounds of crashing waves, rustling leaves, and the crackling of a fire's flames. In a time when the planet's resources are scarce, we are reminded of their preciousness and our responsibility to eliminate waste.
Best Children's Show (TGV Awards) 2008, Best Show in the International Puppet Festival de Maribor (Slovenia) 2007, Honorable Mention from the Torun International Puppet Festival (Poland) 2007, Best Show in the Vall d'Albaida Mostra de Titelles 2007.
$5.00 General Admission. Free for kids, IC students, IC members and seniors. Buy tickets online.
Kids
Chicago
Oct 30, 2011
11:00 am
Venue
Phone
312-335-1996 ‎
More information