'Interpretive Realms'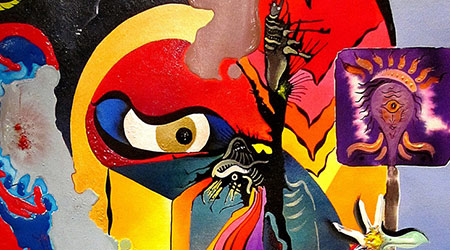 Jesús Uclés and Salome de Cambra explore the world of experience and imagination, illuminating the mysterious and bringing their unique insight to the puzzles and problems of existence.
Frank, full of movement and immediately immersive, these artworks are unafraid to investigate the essence of any subject they touch.
Jesús Uclés
The explosive paintings of Jesús Uclés mix elements of Surrealism, Fauvism, and pure Abstract Expressionism to create multifaceted fantasy landscapes. Using watercolor and acrylic together, Uclés builds a scene by setting up relationships. Simple, graphic shapes appear in repetition or intertwined with one another. Bright colors complement and clash. An undulating royal purple wave may rub up against a yellow, impossibly smooth plane, forming only one fraction of a greater composition which is packed with such juxtapositions. Uclés' artistry lies in tying all the disparate elements together into not only a recognizable shared physical space, but a clear narrative. His paintings are infused with tangible emotion and energy, even as the eye insists that there is nothing familiar to hold onto.
Uclés was born in Valencia, Spain, and today lives in Barcelona. In addition to paint, he works with ink and latex on paper. He is influenced by a wide range of interests, from flamenco and electronic music to engineering plans, all of which feed into his paintings, which he describes as not real histories but histories about feelings.
Salome de Cambra
Spanish artist Salome de Cambra paints in a range of materials. Her abstract canvases are so thickly layered that they are practically bas-relief sculptures, yet she is also capable of creating delightful Neo-Figurative landscape paintings. Amidst this varied imagery and set of materials, the Barcelona-based painter remains consistent in her sources of inspiration and her goal: to portray environments marked by human activity that convey a mood or emotion. This applies equally to her oil compositions of skiers slicing down soft, powdery slopes resplendent with wintry sunlight, and her mixed media topographical images of conflict-riddled countries' landscapes portrayed from above as if via satellite.
The self-taught artist's startling versatility allows her to portray scenes that can be tranquil and solitary, or charged with gripping visual stimulants. Her ability to convey evocatively the forms and textures of settings as disparate as the sea floor, snow-covered mountains and arid deserts makes for uniquely transporting artworks. This sensitivity to settings and their surfaces, and an eye for engaging compositions, make viewers eager to explore her finely painted landscapes.
Opening reception on Thursday, April 25, 2013, from 6-8 pm. Entrance is free and art lovers are encouraged to attend and meet some of the artists. Visiting hours: Tuesday-Saturday, from 11 am to 6 pm.
Visual arts
New York
Apr 19, 2013 – May 9, 2013
Venue
Phone
212-226-4151
More information
Credits
Organized by Agora Gallery.