'Remembering / Arranging/ Resisting'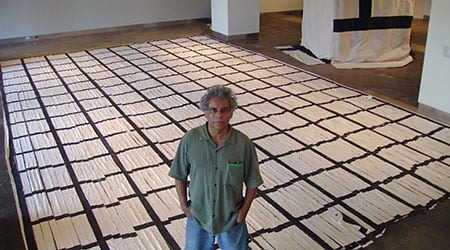 A tandem project that includes the site-specific by Eugenio Espinoza (The Exhibitionist) and Andrés Michelena (Countervision) as well as a documentary film premiering April 11.
Remembering / Providing / Resisting is an exercise of correspondence between these two Venezuelan authors on the viral, critical and political experimentation of drawing and painting abstraction inheritance.
The project seeks to reconnect the ways in which the experiment of drawing and painting abstraction constitutes a subversion of the modernist canon through its radical mise-en-scène.
Historiographically, peripheral art practices seem to have been assigned the contextualization of those developments in art theory being proposed from the hegemonic centers of visuality (Nelly Richard, N. Garcia-Cancilini, dixit). Yet there is a vindication of their socio-political implications, typical of a human economy that does not ignore the productive, relational practices of specific contexts on which it operates. Romantic and emancipatory modernity autism is gone, along with the areas of knowledge that barely tie their socio-political consequences.
Does it mean that the modern exercice was reduced into a will to separate discourses from humans, language from Earth, and build efficient emancipatory veils that seemed to distinguish and put in order the different world spheres when, de facto, human network is interconnected, inextricable, and common? Will the crisis of modernity end up into a failure of its visual regimes, through the ways it used to produce revolutionary myths and, mainly, areas of emancipation where those myths could take place?
Thinking about it —experiencing it— means remembering, providing, resisting.
Free to the public. Opening reception and film screening premiere on April 11 at 7 pm. Learn more about the artists.
Visual arts
Miami
Apr 11, 2013 – May 17, 2013
Venue
Centro Cultural Español Miami (CCEMiami), 1490 Biscayne Blvd, Miami, FL 33132
View on Google Maps
Phone
305-448-9677
More information
Credits
Supervised by Roc Laseca, Ph.D. in Art Theory. In collaboration with The Cisneros Fontanals Art Foundation (CIFO).