The cinema of Luis Buñuel in Almodóvar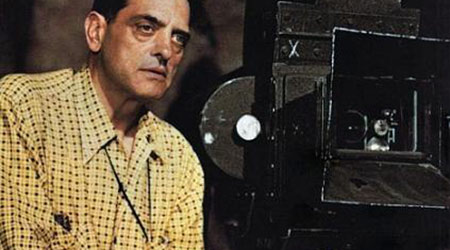 An evening of celebration in honor of Spanish Film Director Luis Buñuel.
Luis Buñuel was born in Spain (22 February 1900–29 July 1983). He first studied with Jesuits before enrolling in the University of Madrid, majoring in science. At the University he met Salvador Dali and Federico Garcia Lorca.
Inspired by Fritz Lang's film, Destiny, Buñuel went to Paris to study film during the 1920's amidst a flourish of avant-garde experimentation. There he became an assistant to the experimental filmmaker Jean Epstein, and in 1928 collaborated with some friends including Salvador Dali on Un Chien andalou, which became a surrealist classic. It provoked a scandal, but Buñuel went on to film L'Age d'Or in 1930, creating another scandal. L'Age d'Or would also be the last time Salvador Dali would collaborate with Buñuel as he fought with Buñuel over the film's anti-Catholicism.
After L'Age d'Or, Buñuel further pursued his interests in anti-clericalism when he turned his attentions to making a documentary called Land Without Bread (1932), studying the contrast between the poverty, disease, and death of the Spanish people and the lush, jewel-filled world of the Spanish Catholic Church. Buñuel went on to work for the foreign branches of major Hollywood studios, dubbing for Paramount in Paris and supervising co-productions for Warner Brothers in Spain. He produced several more Spanish pictures before leaving Spain for the United States during the Spanish Civil War.
In association with producer Oscar Dancigers, Buñuel made a series of films, including Los olvidados (1950), Él (1952), and Criminal Life of Archibaldo de la Cruz (1955). The best of these films brought Buñuel once more to international acclaim. It was with his Mexican films that Buñuel began to fully develop his unique mix of surrealist humor and social melancholy, combining a documentary sense with surrealist qualities into a loose, discontinuous form of narrative that his films would continue to follow as his career would progress. With his Mexican films, he paid especially close attention to the details of average Mexican life. Buñuel would continue to make films in Mexico, most notably Nazarin (1958), even after leaving the continent.
Buñuel returned to France in 1955 to begin three co-productions that placed him in the center of cinematic art. His first opportunity to work and live in Spain came when he made Viridiana in 1961. Though his script was initially approved, the film was banned upon release due to its anticlerical images, notably Buñuel's famous parodical shot of Leonardo Da Vinci's painting, The Last Supper. Nevertheless the film achieved international recognition. Controversy and problems with either distribution or censorship continued to appear throughout his career, as in his French film, Belle de Jour (1967), which would later go out of distribution for many years until Martin Scorsese rereleased it in 1996. Despite the complications, Buñuel continued to be one of the most creative and productive of all film directors.
This event is free and open to the public. With special guests Dr. Julian Gutierrez–Albilla (USC) and Dr. Victor Fuentes (UCSB).
Film
Los Angeles
Apr 10, 2013
07:00 pm – 10:00 pm
Venue
California State University Fullerton, 800 North State College Boulevard, Fullerton, CA 92831
View on Google Maps
Phone
657-278-2011
More information
Credits
Sponsored by Department of Modern Languages and Literatures, Sigma Delta Pi and the Consulate General of Spain in Los Angeles.