Cine-Club: 'Abre los ojos' ('Open Your Eyes')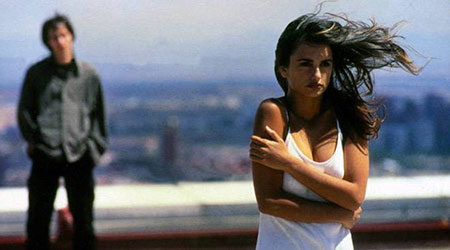 Turned years later into the Hollywood remake Vanilla Sky starring Tom Cruise and Penelope Cruz, Alejandro Amenabar's original psychothriller became a blockbuster in Spain.
Abre los ojos (Open Your Eyes)

Spain, 1997, 117 minutos. Directed by Alejandro Amenábar. Written by Alejandro Amenábar and Mateo Gil. Produced by Jose Luis Cuerda, Fernando Bovaira. Cast: Eduardo Noriega, Penélope Cruz, Chete Lera, Fele Martínez, Najwa Nimri, Gerard Barray, Jorge de Juan, Miguel Palenzuela, Pedro Miguel Martínez, Ion Gabella, Joserra Cadiñanos, Tristán Ulloa (Camarero.) , Pepe Navarro. Music by Alejandro Amenábar, Mariano Marín. Cinematography by Hans Burmann. Film editing by María Elena Sainz de Rozas.
César is the heir to a great fortune. One night, at a party, his friend Pelayo introduces him to a friend called Sofía, and he falls in love with her at first sight. However, his current girlfriend, Nuria, has an attack of jealousy and they end up in a car accident. César wakes up in hospital with his face disfigured.
In Spanish with English subtitles. RSVP required: get your free tickets for this SPAIN arts & culture Cine-Club screening. Doors open at 6:30 pm. Presentation and screening at 6:45 pm.
Film
Washington, D.C.
Apr 18, 2013
06:30 pm
Venue
Embassy of Spain‎, 2375 Pennsylvania Avenue Northwest, Washington D.C., DC 20037
View on Google Maps
More information