CINEART Spain: 'Diamond Flash'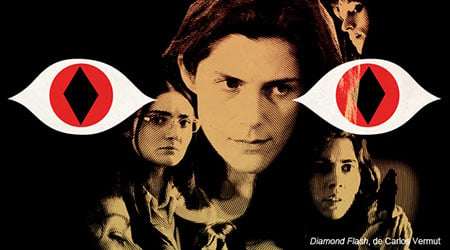 Disappearing Act V European Film Festival in New York hosts Carlos Vermut's screening as part of CINEART Spain.
New York's only European film festival, Disappearing Act, shares some of Europe's most celebrated, contemporary films that are largely unknown in the U.S.
Disappearing Act V is presented by the Disappearing Act Festival Board, chaired by the Czech Center New York with European Union National Institutes for Culture and Other European Partners. Curated and produced by Irena Kovarova. Production assistance by Sven Buehrer.
CINEART Spain tours NYC's most dynamic boroughs while showcasing one award-winning Spanish film and visiting a landmark film house every month. We aim to discover new Spanish film lovers by delivering terrific Spanish cinema to all corners of New York. Already an ardent Spanish film cineaste? Join us in exploring New York neighborhoods and iconic cinema institutions.
Diamond Flash

An underground hit that became a sensation in Spain in spite of its DIY distribution via alternative screening venues, streaming and DVDs. In his feature directorial debut, Carlos Vermut expertly leads an excellent cast of theater professionals. Impossible to classify, the film straddles genre between mystery and personal drama, with hints of fantasy, while using an accomplished cinematic style. The story follows five women connected through one man, a mysterious character who forever changes all of their lives.
Directed by Carlos Vermut, Spain, Spain, 2011, 128 minutes. In Spanish with English subtitles. View trailer.
Free on a first-come, first-served basis. No reservations necessary.
Film
New York
Apr 12, 2013
08:30 pm
Venue
Phone
646-422-3399
More information
Credits
Organized by Pragda, co-presented by Disappearing Act European Film Festival in New York, Spain Culture New York and SPAIN arts & culture. Special thanks to Instituto Cervantes New York, Alex Zucker, Jaap Verheul, Tomas Mazalek and Amber Shields.