'Lorca in New York: A celebration'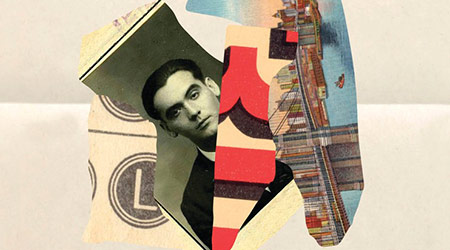 The festival will honor Lorca with performances, concerts, readings, lectures, and a world-premiere exhibition of Poet in New York at The New York Public Library.
Lorca in NY: A Celebration is the largest-ever festival in North America celebrating the work of Federico García Lorca, considered as one of the most influential Spanish poets and playwrights of the last century. Presented by the Fundación Federico García Lorca, the festival will feature more than two dozen events at venues throughout Manhattan, many of which will mine an aspect of Lorca's classic work, Poet in New York. Anchored by a world-premiere exhibition at The New York Public Library (NYPL) and timed to the release of Farrar, Straus and Giroux's new, enhanced edition of Poet in New York, the festival marks the first time in more than 25 years that the city pays tribute to Lorca on a grand scale.
From April 5 to July 21, 2013, The New York Public Library hosts Back Tomorrow: Federico García Lorca/ Poet in New York, a world‐premiere exhibition curated by Christopher Maurer and Andrés Soria Olmedo. To illuminate Lorca's process of creating Poet in New York, it brings together for the first time the various manuscripts, original drawings, letters, and photos he generated during this extraordinary period. The exhibition traces the poet's evolving vision of the book, from first drafts to fair copies, but it also shows the cheerful letters Lorca was writing home while composing the book's searing poems. Personal objects, including Lorca's passport, guitar, and bank book, will also be on display. Rare books and manuscripts from the Library's collections provide additional historical context for the period.
Throughout the run of the exhibition, the Federico García Lorca Foundation will mount a citywide festival that engages audiences with Lorca through words, music, and images.
Festival highlights:
Teatro SEA presents Lorca's puppet tragicomedy —Los títeres de Cachiporra (The Billy Club Puppets)— in both Spanish and English. On April 6, 13, 20, and 27.
Bowery Poetry Club presents a Federico García Lorca Extravaganza —A musical theatrical, spoken word celebration and interpretation of  Lorca's writings and favorite Flamenco, Sevillana and Tango songs performed by La Bruja, Emmanuel Zavier, and Simply Rob. On April 7.
New York University hosts an evening of presentations by Lorca specialists from Barcelona, Granada, and the U.S. On April 9.
The CUNY Graduate Center presents a day of panels and performances on translating Lorca, capped by Ben Sidran's Concert for García Lorca and a performance by Joan Jonas. On April 16.
Lorca in Vermont, an exhibition describing a crucial side-trip Lorca made during his NewYork sojourn, takes up residence at The CUNY Graduate Center. On April 16-July 21.
Students in NYU's Creative Writing in Spanish program, lead by Antonio Muñoz Molina and Lila Zemboráin, read their own poems inspired by Poet in New York. On April 18.
Instituto Cervantes presents several screenings of Lorca-related movies including Mudanza (on May 8) and The House of Bernarda Alba (on May 15).
As part of the series LIVE from the NYPL, Paul Holdengräber curates an evening celebrating Lorca's life and legacy.  On June 4.
The Barcelona-based performance artist David Bestué will unveil a new work on the streets of New York at dawn on the date of Lorca's birth. On June 5.
The singer-songwriter-poet Patti Smith, accompanied by friends, performs a concert at the Bowery Ballroom in honor of Lorca's birthday. On June 5.
The Poetry Project invites Paul Auster, John Giorno, Aracelis Girmay, Wayne Koestenbaum, Rowan Ricardo Phillips, Mónica de la Torre, Frederic Tuten, and others to read from, and comment on, Poet in New York at Saint Mark's Church. On June 10.
Live from 92YTribeca: Brooklyn-based Spanish bassist and composer Alexis Cuadrado presents A Lorca Soundscape, a brand new cycle of original jazz protest songs drawn from Lorca's poetry and commissioned by Musical America. Alexis will be accompanied by an exceptional band. Sponsored by Spain Culture New York-Consulate General of Spain. On June 21 at 8 pm.
View the details for all ticketed and non­‐ticketed events on the festival's website.
Literature
New York
Apr 5, 2013 – Jul 21, 2013
Venue
Various venues
More information
Credits
Organized by Fundación Federico García Lorca in collaboration with Acción Cultural Española (AC/E), and The New York Public Library. View the full list of sponsors.