Spanish Cinema at the European Film Festival 'Hecho en Europa'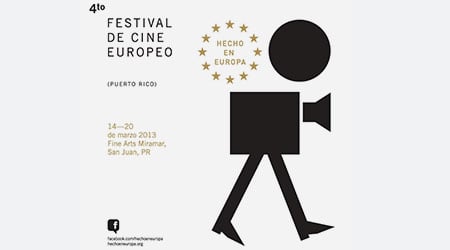 The festival features movies from France, Italy, England, Germany, Belgium, Switzerland, Romany, Czech Republic, Serbia, Sweden, Ukraine and Spain.
The European Film Festival Hecho en Europa premieres the best European movies in Puerto Rico, creates an environment of encounters and discoveries, and promotes the diversity of cinema production.
Hecho en Europa will present the Goya award-winning Blancanieves, Grupo 7 and Los niños salvajes, along with the Spanish-Puerto Rican documentary Un poema en el exilio.
Screenings:

Los Increibles: On March 14th at 7 pm and March 17th at 4:45 pm
Blancanieves: On March 14th at 8:45 pm and March 17th at 4:15 pm
Los niños salvajes: On March 15th at 4:15 pm and March 18th at 6:30 pm
Grupo 7: On March 15th at 6:30 pm and March 19th at 4:15 pm
Un poema en el exilio: on March 17th at 7 pm
Buy tickets online. With director David Valero in person presenting his documentary Los Increibles.
Film
San Juan, PR
Mar 14, 2013 – Mar 20, 2013
Venue
Fine Arts Miramar Cinema Café, Ponce de León Ave. #654, Pda. 11, San Juan, PR 00918
Phone
787-721-4288
More information
Credits
Organized by French Alliance in Puerto Rico in collaboration with the Spanish Consulate in Puerto Rico.