'It's All True:' A Shorts Program and Workshop with Sergio Oksman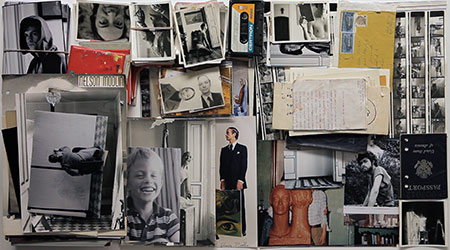 Come join Sergio Oksman in a screening of both Notes on the Other and A Story for the Modlins, with an extended conversation about the shorts, his work, and the long process of "finding" a film.
The nature of a reenactment is for a person, place, or event to be scripted and performed in the style of the original. It takes a reality—or the memory of the reality—and represents it slightly a skewed, resulting in a fictional document of the non-fictional. Reenactment becomes a story about being 'someone else'.

—Oksman, Notes on the Other
In Sergio Oksman's critically acclaimed shorts, Notes on the Other and A Story for the Modlins, the line separating fiction and non-fiction within personal and social histories are blurred. Whether it is an article written by Hemingway from the perspective of a man about to be gored by the bulls as in Notes on the Other, or the retelling of the sad story of a family by an outsider who only holds vague fragments of their lives as in A Story for the Modlins, both of these films address the idea of someone looking into a life by reenacting that life.
Together, these short works communicate and explore one another, with Notes of the Other acting as an essay or study about reenactment and fictionalization, and A Story for the Modlins acting as a product of the filmmaker's own reenactment and fictionalization.
Buy tickets online. $15. The Story for the Modlins won Best Documentary Short at the latest Goya Awards Ceremony. View Sergio Oskman's SPAINRED profile.
Film
New York
Feb 24, 2013
02:00 pm
Venue
Phone
718-395-7902
More information
Credits
Presented by Unidocs. Photo: A Story for the Modlins.