Cine-Club: 'El Secreto de sus Ojos'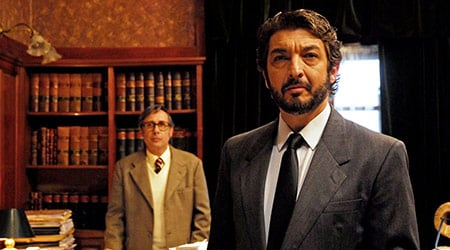 Refresh the 82nd Academy Awards with the Argentinean-Spanish co-production The Secret in Their Eyes, Oscar winner for best Foreign Language Film in 2009.
Benjamin Esposito has spent his entire working life as a criminal court employee. Recently retired, and with time on his hands, he decides to write a novel. He does not decide to make up a story. There is no need to. He can draw on his own past as a civil servant for a true, moving and tragic story in which he was once very directly involved. In 1974 his court was assigned an investigation into the rape and murder of a beautiful young woman.
El secreto de sus ojos (The Secret in their eyes)

Drama, Spain, 2009, 128 minutes. Written by Eduardo Sacheri and Juan José Campanella. Directed by Juan José Campanella. Produced by Gerardo Herrero, Mariela Besuievsky, Juan José Campanella. Cast: Ricardo Darín, Soledad Villamil, Pablo Rago, Javier Godino, Guillermo Francella, José Luis Gioia, Carla Quevedo. Cinematography by Félix Monti. Art Direction by Marcelo Pont. Film editing by Juan José Campanella.
In Spanish with English subtitles. RSVP required: Get your free tickets. Doors open at 6:30 pm. Presentation and screening at 6:45 pm.
Film
Washington, D.C.
Feb 28, 2013
06:30 pm
Venue
Embassy of Spain‎, 2375 Pennsylvania Avenue Northwest, Washington D.C., DC 20037
View on Google Maps
More information